The Hounding of David Oluwale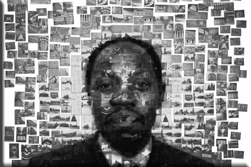 In a true story that shook the city of Leeds in the early 1970's, Eclipse Theatre in association with West Yorkshire Playhouse presents a harrowing account of The Hounding of David Oluwale. Following David's journey from the busy ports of Nigeria to the cold and callous streets of post-war Leeds, Oladipo Agboluaje's adaptation, from Kester Aspden's award winning book of the same title, portrays one man's search for home in a city that seemed not to care. Directed by Eclipse Theatre's Artistic Director Dawn Walton, David's story of racial and social injustice at the hands of the Leeds City police force will be staged at West Yorkshire Playhouse in the 40th anniversary year of his death, before beginning a UK tour.
On 4 May 1969, David Oluwale's bruised and swollen body was pulled from the River Aire in Leeds. A solitary figure among the Leeds down-and-outs, David was a highly visible nobody, an embarrassment to the cosmopolitan ambitions of the city. A resolute and sometimes impulsive young man, he made his way to England as a stowaway in 1949 with the intention of becoming an engineer, but post-war times were difficult in England particularly for black immigrants. Just four years after his arrival, a minor scuffle resulted in David's eight year confinement to a psychiatric hospital. With no family or friends to turn to when discharged, David was forced onto the streets of Leeds. His determination to find a place to call home, to return to the places he recognised led to a highly personalised campaign of police brutality. His death, suspected to be at the hands of his tormentors, was to expose Leeds City Police force to a criminal investigation resulting in prison sentences for two of its police officers. The Hounding of David Oluwale is a compelling and disturbing story of one man's refusal to give in. 
Tour Dates
31 Jan - 21 Feb: West Yorkshire Playhouse / www.wyp.org.uk
25 – 28 Feb: Birmingham Rep / www.birmingham-rep.co.uk
3 - 7 Mar: Everyman Liverpool / www.everymanplayhouse.com
11 - 14 Mar: New Wolsey, Ipswich / www.wolseytheatre.co.uk
w/c 16 Mar: Northcott Theatre, Exeter / www.exeternorthcott.co.uk
24 - 28 Mar: Hackney Empire, London / www.hackneyempire.co.uk
31 Mar - 4 Apr: Nottingham Playhouse / www.nottinghamplayhouse.co.uk