RSC ON TOUR WITH OTHELLO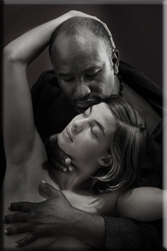 The Royal Shakespeare Company will tour Othello, Shakespeare's great tragedy of jealousy and suspicion. The production is directed by Kathryn Hunter, whose work as a director includes Everyman for the RSC, Pericles and The Comedy of Errors (Globe Theatre), Mr Puntila and His Man Matti (Almeida, Albery, Traverse) and Glory of Living by Rebecca Gilman for the Royal Court. Kathryn Hunter said:
"With a superlative ensemble of actors we will seek to re-examine the heart of Othello, arguably the most topical and accessible tragedy from Shakespeare's major phase as a dramatist.  At the centre of the play is a marriage between two people of different cultures.  Their union could signal a celebration of difference, a triumph of love over prejudice and intolerance.  But their union is destroyed. 'Speak of me as I am' says Othello on the threshold of death. But who is Othello? Who is the other? How do we accept the other? As Ben Okri says 'rejecting is easy… but facing the complexity of others, their history, their raw humanity - that takes courage.'"
Taking on the title role is Patrice Naiambana, who, as a member of the RSC's Histories acting ensemble, has recently appeared as the Earl of Warwick in Henry VI, Henry IV, Henry V and (as the Ghost of Warwick) in Richard III, both in Stratford and at the Roundhouse in London.  Many will also remember him as Aslan in the RSC's stage adaptation of The Lion, the Witch and the Wardrobe.  Patrice played Gower in Kathryn Hunter's production of Pericles at the Globe.
The company includes Natalia Tena in her RSC debut as Desdemona.  Best known for her role as Tonks in the Harry Potter films, Natalia's other credits include Nights At The Circus (Kneehigh Theatre) and, on TV, Doctors and Afterlife.  Michael Gould, who plays Iago, recently appeared in Women of Troy at the National Theatre and The Ugly One for the Royal Court.
The cast also includes: Hannes Flaschberger (Brabantio), Tamsin Griffin (Emilia), Alex Hassell (Cassio), Clive Mendus (Duke of Venice), Flora Nicholson (Military Clerk), Osi Okerafor (Soldier), Glyn Pritchard (Gratiano), Caleb Rowe (Officer), Robert Vernon (Ludovico), Cath Whitefield (Bianca), Matthew Wilson (Montano) and Miltos Yerolemou (Clown).
The production is designed by Liz Cooke, lighting by Mark Jonathan, movement by Marcello Magni, music by Stephen Warbeck, sound by Ian Dickinson, and fights by Terry King.
Warwick Arts Centre, Coventry
Friday 30 January – Saturday 7 February 2009
www.warwickartscentre.co.uk
Hackney Empire
Tuesday 10 – Saturday 14 February 2009
Box Office: 020 8985 2424
www.hackneyempire.co.uk
Northern Stage, Newcastle-upon-Tyne
Tuesday 17 – Saturday 21 February 2009
Box Office: 0191 230 5151
www.northernstage.co.uk
Oxford Playhouse
Tuesday 24 – Saturday 28 February 2009
Box Office: 01865 305305
www.oxfordplayhouse.com
Liverpool Playhouse
Tuesday 3 – Saturday 7 March 2009
Booking open from December 2008
Box Office: 0151 709 4776
www.everymanplayhouse.com