Ballet Black returns to the Linbury Studio Theatre and Cambridge Arts Theatre in 2009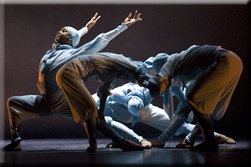 Ballet Black is an up-and-coming classical ballet company with eight critically acclaimed sell-out seasons to its credit. Inspirational and innovative, it strives to honour the traditions of classical ballet while breaking new ground with cutting edge choreography. Ballet Black is now an essential part of the classical ballet landscape, the perfect showcase for dancers of black and Asian descent, providing them with a platform on which to perform and practice their craft. Not surprisingly, Ballet Black attracts dancers, choreographers and designers from around the world.
In recent years, the company has worked with Richard Alston, Shobana Jeyasingh and Liam Scarlett; this time there will be new works from choreographers including Antonia Franceschi and Will Tuckett.
Ballet Black runs from 25 to 28 February, 8pm at the Linbury Studio Theatre, Royal Opera House
Address: Covent Garden, London WC2E 9DD
Box office: 020 7304 4000 / www.roh.org.uk
Tickets: £18.50, £15.50, £13.50, £9.50 standing (£10.50 students and ROH Access Scheme)
Ballet Black will also be at the Cambridge Arts Theatre on 15 March, 7.45pm
Address: Cambridge Arts Theatre 6 St Edward's Passage, Cambridge CB2 3PJ
Box Office: 01223 503333 / www.cambridgeartstheatre.com
Tickets: £10/£15 /£20