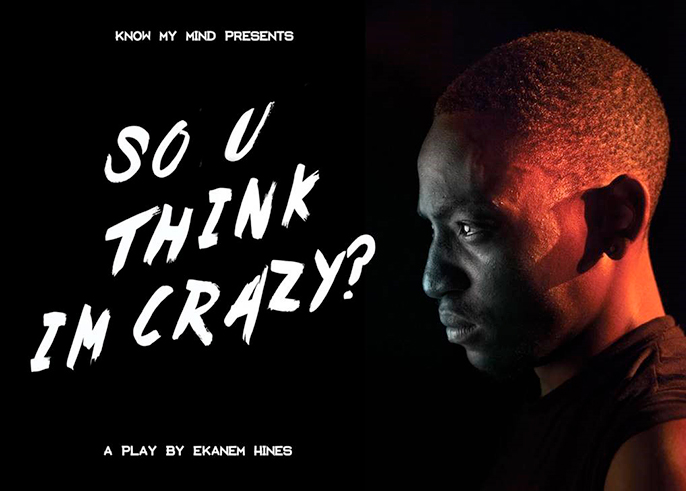 This is a special performance in memory of Leon Burmant.
RMT union welcomes your support for theatre performances of So U Think I'm Crazy (actors performing are not funded)
So U Think I'm Crazy is a production by Know My Mind, a community therapeutic and educational theatre group which explores the issues of ill mental health from a service user's and a carer's perspective. So U Think I'm Crazy exposes the inadequacies of the mental health service in today's Britain. It looks at the impact of trauma and the thin line of our own personal fragility, of mental wellbeing and the risk of "falling off the edge". It challenges negative stereotypes and shows how these negative perceptions are intrinsically interwoven into the fabric of our society and are subsequently played out in the form of outcomes, care plans and the delivery of services.
So U Think I'm Crazy is a hard hitting, emotive play which incorporates poetry, dance and music, and tells the story of a young African/Caribbean man as he journeys through the psychiatric hospital. The performance's goal is to raise the level of awareness of mental health issues and enter in a dialogue with the audience via Q&As, making it truly a therapeutic and educational experience.
Info: So U Think I'm Crazy by Ekanem Hines is at the Bernie Grant Arts Centre Town Hall Approach Road, Tottenham Green, London N15 4RX at 2.30pm & 7.30pm on Friday 2 December 2016 / Book tickets / More about the production / Tickets: £10 (£8 concession) / Ticket bookings: 0208 365 5450 or email: boxoffice@berniegrantcentre.co.uk or 07411 113 098 or email: SecretaryGACuk@aol.com / So U Think I'm Crazy was at the Fairfield Halls, Croydon in November 2015 / See listing