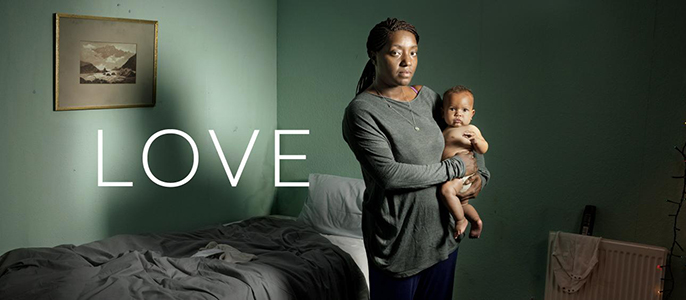 LOVE a new play written through a devising process by Alexander Zeldin opens in the Dorfman Theatre on 5 December (press night 13 December).
It's the run up to Christmas. In a city where over 50,000 households are living in temporary accommodation, three families find themselves without a home.
A middle-aged man and his elderly mum, a young family with a baby on the way, a newly arrived woman from Sudan.
Strangers. Forced together. No space is personal.
This new play by Alexander Zeldin, written through a devising process is a timely reflection on an often overlooked crisis and an intimate story of family love for our times.
Alexander Zeldin's previous work includes the critically acclaimed Beyond Caring, which appeared in the National Theatre's Temporary Theatre in 2015. LOVE continues his unique approach to theatre.
The cast includes Emily Beacock, Darcey Brown, Anna Calder-Marshall, Luke Clarke, Grace Doherty, Janet Etuk, Ammar Haj Ahmad, Nick Holder, Vitaly Outkine, Yonatan Pelé Roodner, Bobby Stallwood and Hind Swareldahab. Design is by Natasha Jenkins, lighting by Marc Williams, sound design by Josh Anio Grigg and movement by Marcin Rudy.
---
Related links
Win tickets to see LOVE at the National Theatre