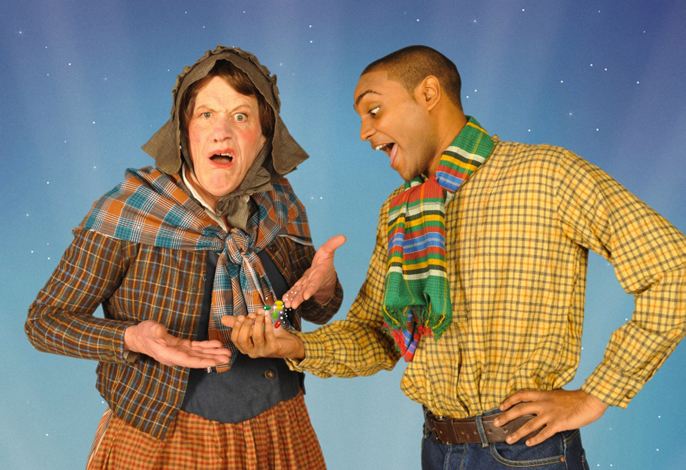 Paul Sirett's Jack & The Beanstalk promises a loud, energetic and fun-filled tale that places the audience at the heart of the story. The show has been written in tandem with critically-acclaimed music duo Wayne Nunes and Perry Melius. It features original songs and lyrics from a broad spectrum of genres, including country and western, soul, jazz, urban and hip-hop, which are each embraced by the different characters in the show.

With Stage and Costume Design by Jenny Tiramani and Harriet Barsby, audiences meet Jack in his hard-hit village before being transported to a mythical world packed with exotic creatures. When the time comes for Jack to take on the supreme force of Uggluck the Ogre, he'll need all the help he can get from the audience, with sing-along songs aplenty and lots of opportunities for joining in.

Michael Bertenshaw is back as Dame Mrs Trott after a barnstorming performance as the Stepmother in last year's Cinderella and Lupinus Wolf in Red Riding Hood (2010). He is joined by Jorell Coiffic-Kamall as Jack, Vlach Ashton as Dizzy, Jack's surprise imaginary friend, Windson Liong as Mr Fleece, Susan Lawson Reynolds as Mrs Porridge, Gemma Salter as Lucy, Jack Shalloo as Boz, Oliver Taheri as Biz, Marcia Vanessa Richards as Harpo and Shelley Williams as Henrietta.


Info: Jack and the Beanstalk is at Theatre Royal Stratford East from 1 December 2012 to January 19, 2013