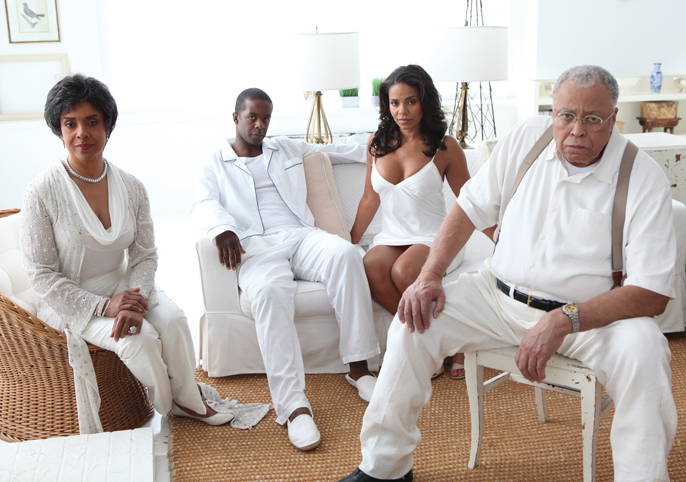 A powerful Southern family gathers at a birthday celebration for patriarch Big Daddy who is unaware he is dying. In a scramble to secure their part of his estate, family members hide the truth about his diagnosis from him and Big Mama. Tensions mount between alcoholic former football hero Brick and his beautiful but sexually frustrated wife Maggie 'the Cat'. As their troubled relationship comes to a stormy and steamy climax, a shockwave of secrets is finally revealed.
Debbie Allen's sell-out Broadway production of Cat On A Hot Tin Roof has set designs by Morgan Large with costume designs by Fay Fullerton, lighting by David Holmes, sound by Richard Brooker and original music by Andrew "Tex" Allen. Cat On A Hot Tin Roof is produced by Stephen Byrd and Alia Jones for Front Row Productions.
The cast is Richard Blackwood (Brightie), Guy Burgess (Lacey), Claudia Cadette (Nanny), Peter De Jersey (Gooper), Derek Griffiths (Reverend Tooker), James Earl Jones (Big Daddy), Sanaa Lathan (Maggie), Susan Lawson-Reynolds (Sookey), Adrian Lester (Brick), Joseph Mydell (Doctor Baugh), Phylicia Rashad (Big Mama) and Nina Sosanya (Mae). They are joined by Yvonne Gidden who will understudy Big Mama.
Tennessee Williams' Cat On A Hot Tin Roof was last seen in the West End in 2001 directed by Anthony Page with a cast including Frances O'Connor, Brendan Fraser, Ned Beatty and Gemma Jones. In 1988 Howard Davies directed a National Theatre production with a cast including Ian Charleson, Lindsay Duncan, Barbara Leigh-Hunt and Eric Porter.
Cat on a Hot Tin Roof is at the Novello Theatre until April 10, 2010.
Performances: Monday – Saturday at 7.30pm
Wednesday and Saturday matinees at 2.30pm
Christmas and New Year schedule
Monday 21 December 2.30pm & 7.30pm
Tuesday 22 December 7.30pm
Wednesday 23 December 2.30pm & 7.30pm
Thursday 24 December 2.30pm
Friday 25 December no performance
Saturday 26 December 2.30pm & 7.30pm
Monday 28 December 2.30pm & 7.30pm
Tuesday 29 December 7.30pm
Wednesday 30 December 2.30pm & 7.30pm
Thursday 31 December 2.30pm
Friday 1 January no performance
Saturday 2 January 2.30pm & 7.30pm
---
Related links:
Cat on a Hot Tin Roof website
Cat on a Hot Tin Roof looking for diverse team
ATN interview with Adrian Lester