Loot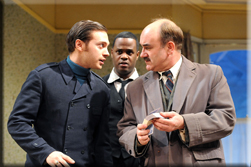 Jim Creighton, David Haig, James Hayes, Doon Mackichan and Javone Prince join Matt Di Angelo in Joe Orton's Loot, directed by Sean Holmes at the Tricycle Theatre.  Loot follows the fortunes of Dennis and Hal, two young lads who hijack Hal's mother's coffin to stash the loot from a recent heist.  The plot thickens as her body keeps turning up around the house, the unscrupulous police Inspector Truscott arrives on the scene sowing confusion around him, whilst Nurse Fay works her dubious charms on Hal's Dad. Matt Di Angelo (Hal) was most recently seen in BBC 1's hit show Strictly Come Dancing followed by a National 'Strictly' tour.  
Javone Prince (Dennis) has previously been directed by Sean Holmes in Richard III and Measure for Measure for the Royal Shakespeare Company.  His other theatre credits include In the Red and Brown Water and Raisin in the Sun for the Young Vic, Statement of Regret and Burn/Chatroom/Citizenship for the National Theatre, Out of the Fog at the Almeida and Sugar Mummies for the Royal Court.  On television his work includes Horrible Histories, The Bill, Tittybangbang and Little Miss Jocelyn. 
Loot runs from 11 December – 31 January and will tour to Newcastle Theatre Royal from 02 - 07 February after its opening at the Tricycle.
Address: Tricycle Theatre, 269 Kilburn High Road, London NW6 7JR | Box office: 020 7328 1000 | Tickets: £10 - £20 (with reductions available) | www.tricycle.co.uk