Amazonia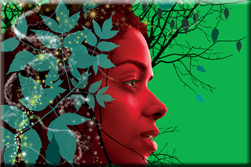 This Christmas, Brazilian and British theatre artists come together to create a spectacular Amazonian adventure. Cirque du Soleil designer Gringo Cardia will transform the Young Vic into an enchanted rainforest for another imaginative departure from traditional seasonal fare.Fantasy and reality dance through the depths of the rain forest. Laughter, danger and desire are unleashed and the Amazon trembles.
Can the mystical spirits of the forest save our heroes? Inspired by traditional Brazilian myths and legends, Amazônia is co-written by Paul Heritage (AfroReggae, Barbican) and Colin Teevan (Monkey! Young Vic) and brought to life by award-winning Brazilian choreographer Jean Abreu. The cast includes Ponciano Almeida, Daniel Cerqueira, Chris New, Simon Trinder and Golda Rosheuvel. Original Brazilian music will be composed and performed by Adriano Adewal, Felipe Karam, Anselmo Netto and Gui Tavares.
Amazônia celebrates the life of environmentalist Chico Mendes who was assassinated 20 years ago this December. Chico was a rubber tapper from the Amazonian state of Acre who united the peoples of the forest and made vital steps towards preserving the rain forest which led to his assassination by local ranchers. His vision and legacy continue to inspire environmental activism today.
The Christmas show is the culmination of our biggest international project to date. Co-produced with People's Palace Projects, it is the third theatrical event to arise from two years of joint research in the Amazon.
Tickets and information www.youngvic.org 0207 922 2922 Weekdays and matinees £22.50 Under 26s £10.00 (subject to availability) Unwaged, over 60s, disabled Save £5.00 on full-price tickets and mid-week matinees are half price.
For details about groups, schools and other discounts calls 020 7922 2920 (Mon – Sat, 10am – 6pm) Audio described performance Weds 17 December, 2.00pm There will be a touch tour from 12.30pm.
Captioned performance Weds 7 January, 7.30pm Until 24 Jan