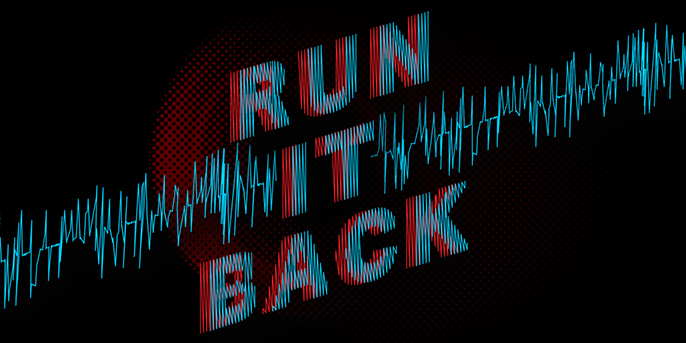 Run It Back from Talawa's TYPT 18 Company
Run It Back is an explosive new show from Talawa Theatre Company's TYPT company of emerging Black theatre makers.
Directed by Coral Messam (read interview), Run it Back is a celebration of black British club culture that places rave under a microscope.
Behind the police tape in a disused warehouse a party is raging. A collective has taken over and distorted bass pulses through the streets calling the ravers in. Lost in the music and dripping with sweat they surrender to the DJ's game. Bring your rags and flags for a night of theatre powered by grime bashment and afrobeat.
Coral Messam says: "Human connection through music is one of the most powerful and euphoric forces we know, it's incredibly empowering. Run It Back is our challenge to the negative stereotypes attached to modern Black British sounds and culture. Add some treble plus a big dose of bass, top it off with a DJ and MC and let the young people speak, vent and wild out! We're taking our places and bringing them back to life and we're going to take theatre by storm."
This production is the latest in a string of sell-out shows from TYPT, Talawa Theatre Company's annual collaboration with emerging Black theatre makers, produced by Gail Babb.
Gail Babb says: "Artist development is at the heart of what we do at Talawa and TYPT is a big part of that. It is a collaborative process where every member of the TYPT company is invited to add their voice and artistry. To contribute fully with no apologies or expectations to moderate themselves. TYPT productions are the result of this full expression and they hit hard. Run It Back is going to be like the best party ever, everything that theatre can be."
The full cast and creative team includes:
Wunmi Ibironke – Performer/Deviser
Ayomide Adegun – Performer/Deviser
Johnson Adebayo – Performer/Deviser
Jordan Duvigneau – Performer/Deviser
Simeon Blake-Hall – Performer/Deviser
Tife Kusoro – Performer/Deviser
Victoria Buky Esan – Performer/Deviser
Ewaoluwa Esther Dina – Performer/Deviser
Francesca Amewudah-Rivers – Performer/Deviser
Esmonde Edgar Cole – Performer/Deviser
Ashlee Elizabeth Lolo Roberts – Writer/Deviser
Dzifa Gazo – Writer/Deviser
Amada Piedra - Assistant Designer
Sasha Bond – Assistant Stage Manager
Jimi Ogun – Assistant Stage Manager
Info: Run it Back is at Hackney Showroom London, E8 2BT from 29 to 31 Aug 2018 | Book tickets #RunItBack