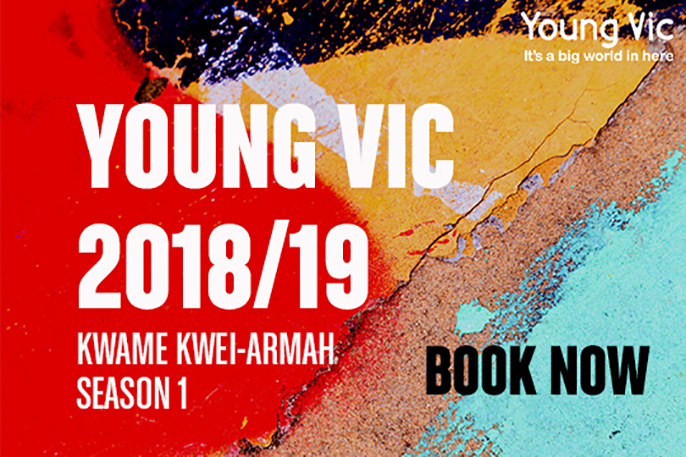 BOOK NOW FROM £10
A Musical Adaptation of William Shakespeare's
Twelfth Night
Conceived by Kwame Kwei-Armah and Shaina Taub
Music and Lyrics by Shaina Taub
Directed by Kwame Kwei-Armah and Oskar Eustis
2 Oct – 17 Nov 2018
'Free-spirited, thoroughly delightful with a buoyant jazz-and-R&B-inflected score' New York Times
Shakespeare meets his match as brass bands and Beyoncé weave through this enchanting musical adaptation of Twelfth Night, with music and lyrics by the critically acclaimed songwriter Shaina Taub.
Young Vic Artistic Director Kwame Kwei-Armah and Oskar Eustis co-direct this technicolour celebration of love in all its forms, following a run at the Public Theater's Shakespeare in the Par1k.
The Convert
By Danai Gurira
7 Dec 2018 – 19 Jan 2019
★★★★ 'A and gripping drama' Financial Times
Black Panther star and Tony-nominated writer Danai Gurira's striking play explores the impact of colonialism and Catholicism on black identity.
It's 1896 and Jekesai, a young woman fleeing forced marriage, finds herself working for a devout Catholic. Chilford dreams of being an English priest and relishes the opportunity to mould his new convert. But Jekesai's salvation has its price as her individuality is slowly stripped away…
'An extraordinarily ambitious play – intense, harrowing and compelling' LA Times
Jesus Hopped the 'A' Train
By Stephen Adly Guirgis
Directed by Kate Hewitt
14 Feb – 30 Mar 2019
★★★★ 'Shocking, shattering, stunningly well-written' The Daily Telegraph
'Like a shot of caffeine straight in the veins' The Guardian
From Pulitzer Prize winner Stephen Adly Guirgis (The Motherfucker with the Hat), a dark comedy about the contradictory nature of faith.
Inside the lockdown wing of Rikers Island prison, a frightened young man accused of murdering a cult leader is confronted with a charismatic born-again serial killer and a sadistic guard. Will one man's redemption lead to another's damnation?
Things of Dry Hours
By Naomi Wallace
Directed by Debbie Hannah, 2018 Genesis Award winner
15 – 25 Aug 2018
★★★★ 'A gorgeously written and philosophically rich celebration of a black Communist agitator in Depression-era South' TIME OUT NEW YORK
The knock at the door. Because there is always a knock at the door…
Tice Hogan and his daughter Cali live a quiet life, keeping their heads down, reading the Bible, Karl Marx, and washing the rich folks' laundry. Until one day an unknown white factory worker crashes into their lives.
Weaving the spiritual into the political, Things of Dry Hours interrogates the idea that humans cannot change; are we really all that black and white?
2018 Genesis Award winner Debbie Hannan directs this tantalizing, poetic play.