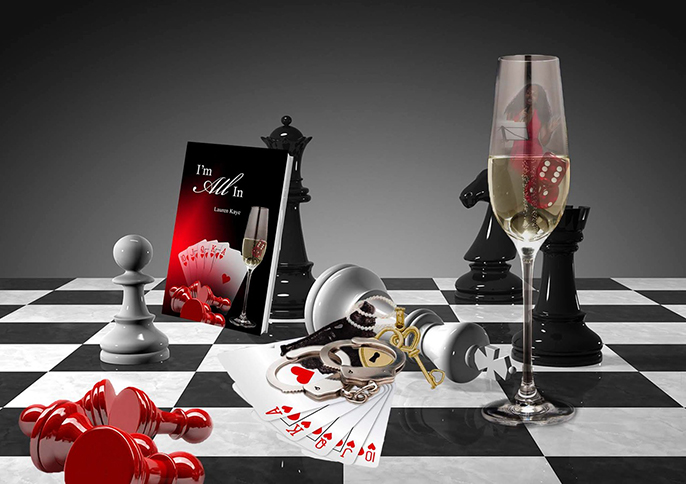 A live adaptation of Lauren Kaye's poetry book I'm All In that narrates a love triangle told through her intimate and semi-biopic poems taken from the five star rated collection. Writer, Poet and Filmmaker Lauren Kaye unveils her debut stage production at Camden Fringe, at Camden People's Theatre. Bringing you her passionate, humorous and thought-provoking spoken word, with salacious references from food to jewellery.
Kaye pours her heart out depicting the making of the book with this intense, heart-wrenching yet comical theatre piece. This one woman show is a stylised poetic play, full of adult humour, truth, secrets and lies. The content is nothing short of intrigue and passionate raw honesty, provoking emotion and conversation as the Poet herself has been known to do.
Such as in the book, the play contains all the elements of what makes and breaks a relationship. Appropriately categorised between chapters turned into acts, of the episodes that pull our heartstrings the most. Relating emotions such as the indulging Love of the honeymoon period; from flirting, to falling, obsessing, confessing your heart's desire. 'If you were a letter, I'll be the signature, envelope, address and postage…'
The Lust of yearning to fulfil your sexual fantasies 'To feel the heat of your breath again the ripples of my neck…' To suddenly be wrapped in the antagonising Loathe of discovering secrets, feeling deceived or betrayed 'There is no fury like my scorn.' To aching Loss, the loss of the one that got away, the one whose absence makes you feel guilty, if not empty 'You're my pain relief so without you I'm suffering.'
Some of the poems are taken from Kaye's ever popular Custom Poetry Greeting Cards™ that she founded in 2014. Both exclusive card creations as well as the book will be sold on the night. Paperback and hardback first editions of I'm All In are currently available via selected online retailers including Amazon and the website of the official sponsor Infiniti Promotions.
Info: I'm All In by Lauren Kaye is part of the Camden Fringe Festival and will be at the Camden People's Theatre London NW1 2PY on 15 August 2018, 7.15pm | book tickets | Visit Lauren Kaye's blog