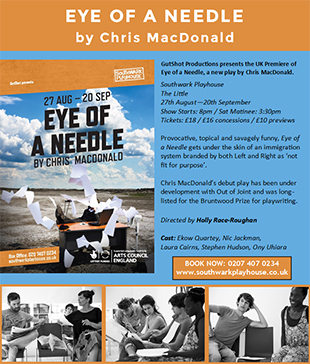 'The UK is like the Holy Grail and they're all expecting the crusades. We have to give it to them'
Laurence loves to go out, get wrecked and rave to dub step. He pays for it with a job at UK Immigration Control. Deciding who does or doesn't get to stay in the country is hard enough without a hangover.
Ugandan gay rights activist Natale Bamadi finally makes it to the coveted shores of the United Kingdom but neither she nor Laurence can begin to prepare themselves for what happens when her high-profile asylum case is dropped onto his desk.
Provocative, topical and savagely funny, Eye of a Needle gets under the skin of a system branded by both Left and Right as 'not fit for purpose'.
Writer Chris MacDonald says:
'Eye of a Needle was inspired by the real case of Brenda Namigadde. In 2011 she was on the verge of being sent back to Uganda due to not having enough 'physical evidence' of her sexuality to prove she was in danger. I was provoked by this catch-22 like predicament. How do you spend your life hiding who you are and then provide evidence to prove it? I deeper I dug, the crueler and more ridiculous the system appeared.'
Chris MacDonald's debut play has been under development with Out of Joint and was long-listed for The Bruntwood Prize for Playwriting.
Directed by Holly Race-Roughan. Designed by Fly Davis.
Cast: Ekow Quartey, Nic Jackman, Laura Cairns, Stephen Hudson, Ony Uhiara.
Info: Eye of a Needle is at the Southwark Playhouse, 77-85 Newington Causeway London SE1 6BD from 27 August to 20 September 2014 | Book tickets