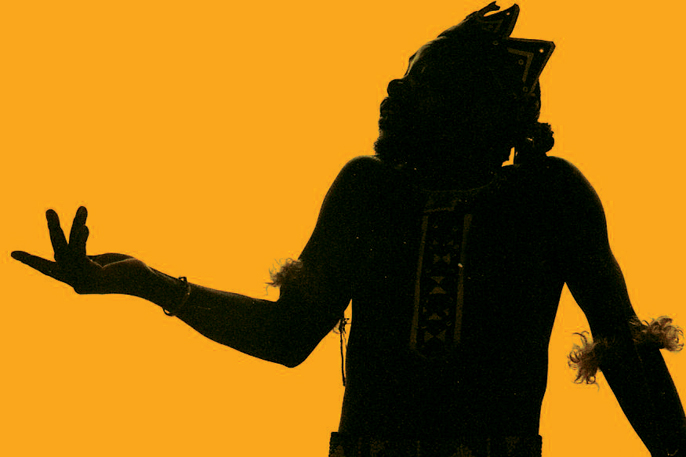 The Epic Adventure of Nhamo the Manyika Warrior and His Sexy Wife Chipo, Tricycle Theatre
written by Denton Chikura; directed by Lucian Msamati; designer: Ben Stones
'Nhamo, you are a legend of African Folklore! Hollywood awaits!'
In his first directing role for the company, Tiata Fahodzi's Artistic Director Lucian Msamati directs the first play by Denton Chikura (who recently appeared in the Tricycle Theatre's production of The Arabian Nights). The cast is Tanya Fear (Kick-Ass 2) as Chipo, Don Gilet (EastEnders, Babyfather) as Narrator, Nyasha Hatendi (Cheek by Jowl's Tis Pity She's a Whore) as Commander Specimen and Ery Nzaramba (The Bacchae, Blood Wedding, Northampton) as Nhamo.
African storytelling and theatrical decorum are turned on their heads in an epic new comedy. A desperate narrator has just 24 hours to create the ultimate African fable but the superstar cast is missing a hero. Suddenly, a dashing goatherd appears on the horizon… Nhamo. Is he The One?
The production is designed by Ben Stones with lighting by Paul Keogan. The Composer and Sound Designer is Helen Skiera and Assistant Director is Anthony Ekundayo Lennon.
Info: The Epic Adventure of Nhamo the Manyika Warrior and His Sexy Wife Chipo is at the Tricycle Theatre, 269 Kilburn High Road, London NW6 7JR, from 1 - 24 August 2013. Book tickets, here.
Related links
Press launch: The Epic Adventure of Nhamo the Manyika Warrior and His Sexy Wife Chipo
The Epic Adventure of Nhamo... Trailer
The Epic Adventure of Nhamo... Trailer - courtesy of Youtube.com