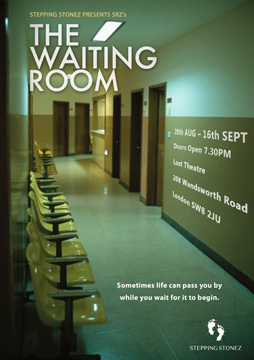 Six individuals are in a hospital waiting room with no memory of how they arrived. They are all seeking for a doctor or nurse for help. There is a small problem, the doors are locked with no alternative way out and medical staffs are inexplicably absent. Lawrence Grahams has been in a car accident with his wife.

Ade and Jermaine's friend James was seriously hurt in a fight at a party, while Sophie and Jessica escaped a car accident without serious injury and are seeking a doctor to get the all clear. Gary can't remember why he is there at all, but all of them are forced to sit around and wait, which is often the hardest thing to do.

Sometimes life can pass you by while you wait for it to begin, but what happens in the waiting room has a far greater impact on their lives than they could ever have imagined.

The play is written and directed by Serge Rashidi-Zakuani, co-founder of Stepping Stonez.