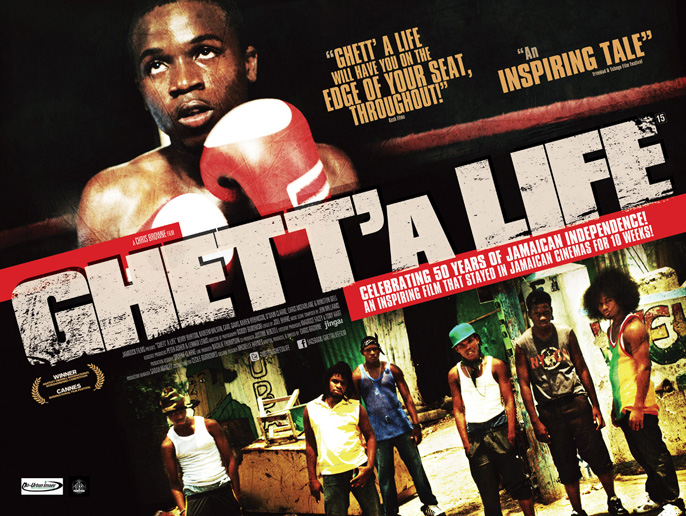 Hit Jamaican film "GHETT'A LIFE" which played for over 10 unbroken weeks in Jamaica cinemas, will be released in the UK throughout August 2012 by New Independent Urban Film Distribution Company Nu-Urban Image International Pictures. The film will play in selected cinemas and community venues across the UK to join the numerous celebrations for Jamaica's 50th Year Independence Anniversary on August 6th. Exclusive one-off screenings will start on Thursday 16th August at the Peckhamplex cinema in Peckham, South London and then move onto selected cinemas in London, Bristol, Birmingham, Nottingham and Leeds, with other venues to be confirmed in the coming weeks.

Associate produced by boxer Lennox Lewis the film follows Derrick, a young man growing up in the ghettos of Kingston, who dreams of being Jamaica's next world boxing champion, but its election year and politics along with tribal violence divide the country. 'Sin', the local area "Don", forbids him from going to the boxing gym which is situated in a rival part of town, but despite the escalating violence, Derrick refuses to give up on his dreams and defies both his father & Sin whilst facing up to past enemies from a rival gang also training at the same gym. Young Derrick stands tall even against violence meted out to his own parents until the ignorance of divisiveness gives way to the triumph of unity.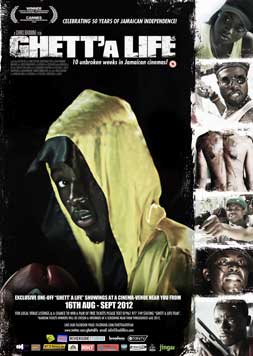 Writer and Director Chris Browne (Third World Cop) was extremely pleased to have secured a nationwide UK release for the film and said, "This is an important milestone for "Ghett'a Life" and for the Jamaican film industry, given that the film will be the first Jamaican-produced and financed movie to show across the UK. We look forward to widespread support from all communities as we promote the message of the film, 'unity in the community'."

Jamaica 2011/ Dir: Chris Browne /103mins / Cert 15
Starring: Kevoy Burton, Winston Bell, Chris McFarlane, Kadeem Wilson, Karen Robinson, Lisa Williams & O'daine Clarke.
Related Links
Please check out the stills from the movie Ghett'A Life
Facebook Fan Page
Twitter
---
CINEMA/VENUE
Peckham Plex

DETAILS
95A Rye Lane Peckham, London SE15 4ST
0844 567 2742 / www.peckhamplex.com
Tickets: £4.99
DATE/TIMES
Thurs 16th Aug (8.30pm)


CINEMA/VENUE
Bernie Grant Arts Centre

DETAILS
Town Hall Approach Road London, Greater London N15 4RX
020 8365 5450 / www.berniegrantcentre.co.uk
Tickets: £7.00
DATE/TIMES
Sat 18th Aug
(7.30pm)


CINEMA/VENUE
Trinity Arts Centre

DETAILS
Trinity Road, Bristol BS2 0NW
0117 935 1200 / Kush: 07961977749 / info@kushfilms.com
Tickets £6.50 adults / Family tickets x 3: £18 or Family x 4 for £21
Unemployed: £5.50 (proof must be provided)
Online Bookings: kushfilms.shoobs.com
DATE/TIMES
Fri 24th Aug
(8.00pm)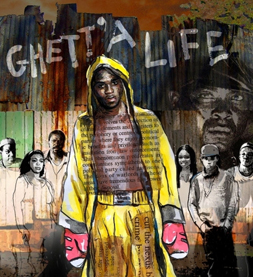 CINEMA/VENUE
Broadway Cinema

DETAILS
14-18 Broad Street, Nottingham, NG1 3AL
0115 952 6611 / www.broadway.org.uk
Tickets: £7.50 / Concessions: £5.90
DATE/TIMES
Sun 26th Aug
(5.15pm)


CINEMA/VENUE
The Black Grape

DETAILS
268 West Green Road, Tottenham, N15 3QR
07961977749 / Kush: 07961977749 / info@kushfilms.com
Tickets: £7 / £6 concessions (Proof of Benefits must be provided)
DATE/TIMES
Wed 29th Aug
(8.00pm)

Tickets for this event can be bought from Marlon Palmer on :07961 977 749 or
Every-bodies Music Record Shop
261 High Road Tottenham, London,
N15 4RR
0208 802 0146
(Just outside Seven Sisters Tube station)


CINEMA/VENUE
Peckham Plex

DETAILS
95A Rye Lane Peckham, London SE15 4ST
0844 567 2742 / www.peckhamplex.com
Tickets: £4.99
DATE/TIMES
Thurs 6 Sept (8.30pm)


CINEMA/VENUE
Riverside Studios

DETAILS
Crisp Road, Hammersmith, London, W6
020 8237 1000 / www.riversidestudios.co.uk
Tickets: £9.50 / £8.50 concessions
DATE/TIMES
Thurs 13th Sept
(8.15pm)


CINEMA/VENUE
Lambeth Town Hall

DETAILS
Brixton Hill, Lambeth, London, SW2 1RW
020 7926 1000
Tickets: £7 / Concessions £6 (proof must be provided)
DATE/TIMES
Date tbc


CINEMA/VENUE
Mac Cinema

DETAILS
Cannon Hill Park, Edgbaston, Birmingham, B12 9QH
0121 446 3232
Tickets: £tbc
DATE/TIMES
Date tbc

GhettA Life UK Trailer 2012