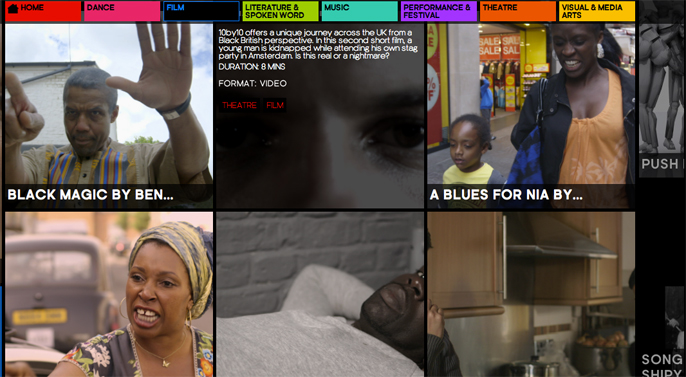 10 short films from 10 UK cities by 10 black writers, presenting a vivid new portrait of life in our nation today
Directed by Dawn Walton
A commission for Arts Council England & BBC's digital platform The Space
From 23rd August 2012
Filmed in ten different cities across England, ten different writers from black or minority ethnic backgrounds offer a unique cross section of life in Britain today from their own perspective. The ten short films, each five minutes long, were written in response to Chester Himes' novel A Rage in Harlem (1957), a journey across the New York borough's black communities in the late 1940's. All are directed by Eclipse Theatre's artistic director Dawn Walton. Each film was shot in a single day in the playwright's home city: Middlesbrough, Leeds, Manchester, Nottingham, Bristol, Liverpool, Wolverhampton, North and South London and Sheffield.

Playwrights involved in the project include Olivier Award winner Bola Agbaje (Gone Too Far! and Belong, Royal Court), television writers Maurice Bessman (Brookside, Casualty), Ben Tagoe (Eastenders), radio writer Ishy Din (John Barnes Saved My Life, BBC1's Brief Encounters) and MOBO award winning hip hop artist Kingslee "Akala" Daley.

Starring in the films are some of Britain's leading black actors, including Hugh Quarshie (Holby City), Sharon Duncan-Brewster (Bad Girls), Vinette Robinson (Sherlock, Waterloo Road), MEN award winning O-T Fagbenle, Jimmy Akingbola (Holby City), and Wunmi Musaka (I Am Slave).

Eclipse Theatre is Britain's only black-led middle scale national touring company. Based in Sheffield, they aim to produce high quality, original productions from a black British perspective. Recent productions include Michael X (2008), The Hounding of David Oluwale (2009), SUS (2010), and the forthcoming One Monkey Don't Stop No Show by Don Evans at the Tricycle, London and on national tour from January 2013.

Director Dawn Walton began her career at the Royal Court Theatre, and became first winner of the Jerwood Young Director's Award at the Young Vic. After a year as Acting Head of Studio, National Theatre, Dawn is now the Artistic Director of Eclipse theatre company. Recent theatre includes for Eclipse Theatre: One Monkey Don't Stop No Show, The Hounding Of David Oluwale (TMA: Best Director nomination). For Royal Court Theatre: Oxford Street (Olivier Awards Nomination). There's Only One Wayne Matthews (Sheffield Theatres). This is Dawn Walton's filmmaking debut.

Directed by Dawn Walton Produced by Victoria Wood
Original Music by Chris Inperspective and Steve Survival
Eclipsetheatre.org.uk | thespace.org | | #10by10
Funded by Arts Council England

Black Magic by Ben Tagoe | 23rd August
Starring: Hugh Quarshie
Leeds
Ben Tagoe received a BBC Alfred Bradley Bursary for his radio script Keeping it up with the Joneses and has written numerous theatre scripts including Cold Turkey at Nana's for Oran Mor / Perth Theatre in Spring 2012. Last year, Ben was one of eight writers selected from almost 500 applicants for the 2011/12 BBC Writers Academy. He's currently writing for primetime TV show Eastenders and is on commission with Red Ladder Theatre Company to write The Thing About Psychopaths, which will tour nationally in Spring 2013.

Armley High St, Leeds late afternoon. Marcus (11 year old mixed race boy) is walking home after school. He is spotted by a gang of white boys the same age. As Marcus passes them they trip him up then chase him up the High St. As the bullys close in on Marcus, all seems lost. Will anyone help him?

Omar by Maurice Bessman | 24th August
Starring: O-T Fagbenle
Liverpool
Maurice Bessman has written extensively for television, including Brookside, Casualty, Holby and Hollyoaks. He has also penned original plays and series for BBC Radio 4. Plays for stage include the award winning Cleo, A Little Pinch of Chilli, Terriers and The Liverpool Boat, which was co-written with the Olivier award winning Irish playwright Marie Jones. Latterly he has written film screenplays and his first feature Small Axe is currently in development.

Omar is young, good looking and in love. The 'player' has been tamed and is engaged to beautiful Belle. He travels to Amsterdam for his own stag weekend. As he stands on a quiet back street having his first 'smoke' a series of events begin that will leave Omar brutalised and fighting for his sanity. Is this real or is this a nightmare?

Blues for Nia by Chino Odimba | 25th August
Starring: Sharon Duncan-Brewster
Bristol
Born in Nigeria and raised in London, Chino currently lives near Bristol. Her first play Women Embrace Two, directed by Robin Belfield at the Bristol Old Vic studio in 2002. An Ode to Adam was staged at The Ustinov Theatre in Bath in 2009, and directed by Sita Calvert-Ennals. Since 2009, Chino has also been a member of the Writers Forum now based at the Tobacco Factory Bristol.

Nia has a bone to pick with someone and today she is going to find them and tell them about themselves. Trouble is her 5 year old son Tre would rather play with his toy car. As they walk through St. Paul's, Bristol, Nia relives the incident that has forced her to take this journey. This tragicomic film stars Sharon Duncan Brewster (Eastenders, Top Boy, Bad Girls) as Nia.

Parking Wars by Bola Agbaje | 28 August
Starring: Jo Martin, Michelle Austin and Danny Sapani
South London
Bola Agbaje's Belong was produced at the Royal Court earlier in 2012, following Off the Endz (2010) and her debut play Gone Too Far (2007), which won an Olivier Award for Outstanding Achievement. Bola was also nominated for Most Promising Playwright at the Evening Standard Awards. Other work includes Playing the Game, as part of the Women, Power and Politics season at the Tricycle and Detaining Justice at the Tricycle Theatre.

Early Sunday morning in South East London. A group of Christians and Muslims come face to face with each other in a tiny street. Both parties witness a standoff but you won't believe who is fighting, and no one could predict what happens next.

Rage by Akala | 29th August
Starring: Jimmy Akinbola and Michael Maloney
North London
MOBO award-winning hip hop artist Kingslee 'Akala' Daley is one of the most dynamic, literate and uncompromising talents in UK Hip Hop. Inspired by Saul Williams and Gil Scott Heron, Akala has developed a reputation for stellar live performances, supporting everyone from Jay-Z to Richard Ashcroft, numerous festivals (Glastonbury/Wireless/V/SXSW), partnered with the British Council promoting British culture abroad and was the first rapper to perform a live concert in Vietnam. In 2009, Akala launched the The Hip-hop Shakespeare Company, a hotly-tipped music theatre production company.

Raymond sits in a prison cell. He reflects on the differences between his life on the outside and his present situation. Mostly Raymond reflects on the circumstances that led to him being where he is now. His fall was a long way down. What had to happen for a man in his position to descend to these depths?

Perfume by Ishy Din | 30th August
Starring: Nathan Clarke, Danny Ashok
Middlesborough
Ishy Din's first radio play John Barnes Saved My Life was shortlisted as part of Radio 5 Live's Sports Shorts competition and broadcast in 2004. He wrote a piece for the BBC1 Brief Encounters series (2005); has written for BBC Radio Newcastle; and came second in the British Asian writing competition BANG! in 2007. In 2008 Tamasha commissioned and developed Snookered. The company has since commissioned his second play Approaching Empty, the second part of this trilogy of plays. He was recently awarded a bursary from the Pearson Playwriting scheme and will be Royal Exchange Manchester Pearson Playwright in Residence 2012.

Teenage brothers, Sham and Nad are in a Middlesbrough shopping centre and up to no good. They are selling dodgy perfume to strangers with a plan to buy ganja with the proceeds. But appearances can be deceitful and all is not what it seems.

Music's in the Bones by Yusra Warsama | 31st August
Starring: Wummi Mosaku
Manchester
Yusra Warsama is a performance poet, actor, writer and theatre practitioner, her work takes many forms, from developing a one woman show which uses spoken word, storytelling, live art and physical expression, to Grace (2005) and Make-Believe (2009) with Quarantine, which one to one theatre. Major collaborative work includes Don Lett's Speakers Corner: this spoken word theatre piece, created alongside artists such as rapper Skinnyman and Mad Flow, commemorates the abolition of slavery. Yusra is currently writing a play for the Birmingham Repertory Theatre with two other writers, and filming her first international feature.

A Somali woman is running down the Great Western Road, Manchester. She is running for her life. Through flashbacks we learn what she is running from before returning to the tragic conclusion.

Brown Widow by Leah Chillery | 5th September
Starring: Vinette Robinson
Nottingham
Leah is an actor and writer. In 2008 she won one of seven coveted places on the first BBC College of Comedy. She has storylined for Grown Ups and Two Pints of Lager, both for BBC3 and her original sit-com, Ebony's Yard, was optioned by BBC3. She was also one of the co-writers on, 50 Ways To Leave Your Lover, produced at the Latitude Festival and the Bush Theatre.

Meet Gee. Late 20s beautiful and a body to die for. Join Gee in her Nottingham apartment as she tells us what's really on her mind.

Two Tone by Arzhang Pezhman | 6th September
Starring: Shane Zaza, Neet Mohan and Oscar Ward
Wolverhampton
Arzhang has written widely for theatre and film. Theatre includes: Local (Royal Court, 2000), Come Around (Royal Court, 2003), Bolt-Hole (Birmingham Repertory Theatre, 2006), Intervention (Birmingham Repertory Theatre, 2008), Gravity (Birmingham Repertory Theatre, 2012) and The Harborne Herald (Birmingham Repertory Theatre, 2012). He was writer-in-residence at Soho Theatre in 2006. Feature film scripts include: Kirigami (Script/Small Screen Visions/Claire Ingham, 2002) and Our Home (Reza Shirazi/Media Art, 2011). He is currently developing a new play for stage, a six part television series and a short story for children and teenagers.

Ash and Raj have been best friends since school. Now in their early 20's they are unemployed and bored. To pass the time they hide in a cubby hole at the base of St. Peter's church in the centre of Wolverhampton, smoking and swapping small-talk. Ash is exchanging texts with a potential new girlfriend. A police officer walks by in the distance. The friends try to 'act naturally' but despite their best efforts the policeman joins them. But as he searches them things take a very uncomfortable turn. Why is this policeman acting so strangely and what is he keeping in his rucksack?

Babydoll by Susan Hunter Downer | 7th September
Starring: Everal Walsh and Tanya Richam-Odoi
Sheffield
Susan Downer lives in Sheffield. She has developed scripts for film and television and been a finalist in two BBC writing competitions. Her short play, Home, was performed at Sheffield Crucible Studio in July 2011. Babydoll is her professional debut.

A homeless man walks the streets of Sheffield collecting "treasures" (tin cans) amongst the litter. He travels through the city centre to a derelict building, covered in colourful graffiti and full of treasures. As he excitedly collects cans he finds a buried suitcase that will change his life.