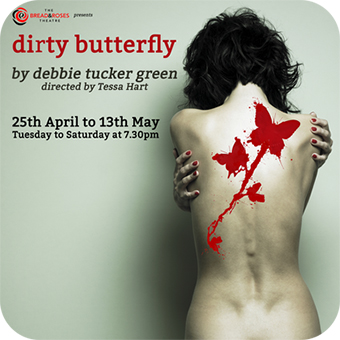 Listening through their thin walls, Amelia and Jason are drawn into the dark and compelling world of their mutual neighbour, Jo. Something very nasty is going on next door. Jason and Amelia know it, but do nothing.
Jason is increasingly addicted to eaves-dropping on Jo's abuse, meanwhile Amelia's frustration with Jo's predicament develops, as she tries to ignore the brutality on the other side of the wall.  
Painting a harrowing image of domestic violence in an intimate, yet so distant environment, dirty butterfly confronts the audience with themes of voyeurism, power and guilt through lives that interlock but never connect.
Following 5 star reviewed productions of 'Miss Julie' in 2015 and 'Low Level Panic' in 2016, this year The Bread & Roses Theatre is putting on a revival of the debut play of Olivier-Award-winning playwright and BAFTA-Award-winning screenwriter debbie tucker green.
Cast: Rachel Clarke, Rebecca Pryle & Andrew Umerah
Producer: Velenzia Spearpoint | Production Manager: Eleanor Rose
Set & Costume Designer: Jo Jones | Sound & Light Designer: Rachel Sampley
Info: dirty butterfly is at the Bread and Roses Theatre (68 Clapham Manor Street, Clapham SW4 6DZ, London)  from 25 April to 13 May 2017, 7.30 pm / book tickets 
Trailer: 'dirty butterfly' by debbie tucker green at The Bread & Roses Theatre
Trailer: 'dirty butterfly' by debbie tucker green at The Bread & Roses Theatre courtesy of YouTube.com