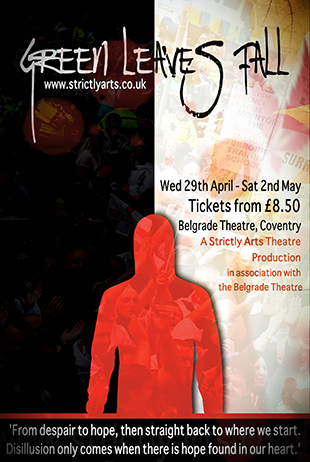 Green Leaves Fall is Strictly Arts Theatre Company's follow up production to Solids & Liquids, the brilliant debut show from this exciting new physical theatre company that brings inspirational performances to all races, creeds and cultures.
'From despair to hope, then straight back to where we start. Disillusion only comes when there is hope found in our heart.'
When a young boy is adopted by a loving family it appears that he will get opportunities that he could never even dream of. However he continuously finds himself being held back and torn apart from those he learned to call family. With life spiralling out of control and his hope destroyed, can this troubled soul be brought back from darkness?
This play explores two of the most pressing social issues of our time – Inequality and Unemployment.
Info: Green Leaves Fall is at the Belgrade Theatre, Coventry from 29 April to 2 May 2015 | Book tickets