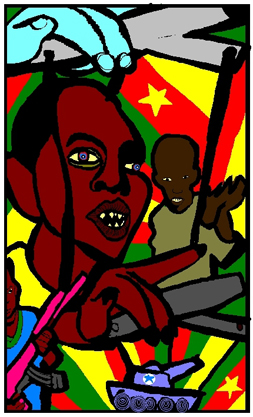 Lydia Besong's latest play, Down with the Dictator is coming to Greater Manchester following two successful performances as part of the COAST International Festival of Community Theatre.

Set in the Cameroon, Down with the Dictator is a timely piece exploring themes of power, political corruption and censorship in all its absurdity. It delivers a strong and moving account of the impact of dictatorships in the world today and reminds us of the consequences to humanity and the reasons why people all over the world are forced to flee from oppressive regimes.

Down with the Dictator was written by Cameroonian playwright and community activist, Lydia Besong. Lydia and her husband, Bernard Batey are currently fighting a high profile campaign to remain in the UK which has attracted local and national support and has been endorsed by leading writers and actors in the UK including War Horse author Michael Morpurgo, Hanif Kureishi and Monica Ali.

The play is produced by Afrocats and is supported by Community Arts North West as part of their Exodus Greater Manchester Refugee Arts programme. The play is supported by Arts Council England.

Bury Met
Friday 20 April, 7.30pm
Box Office: 0161 761 2216

Zion Arts Centre, Manchester
Saturday 28 April, 7.30pm
Box Office: 0161 232 6089

Holy Innocent's Church, Wilbraham Road, Fallowfield, Manchester
Saturday 5 May 7.30pm
Tickets on the door / Information: 0161 234 2987


All performances are followed by a post show discussion giving audiences the opportunity to discuss the play and related issues with the playwright, cast and others involved in Lydia and Bernard's campaign.