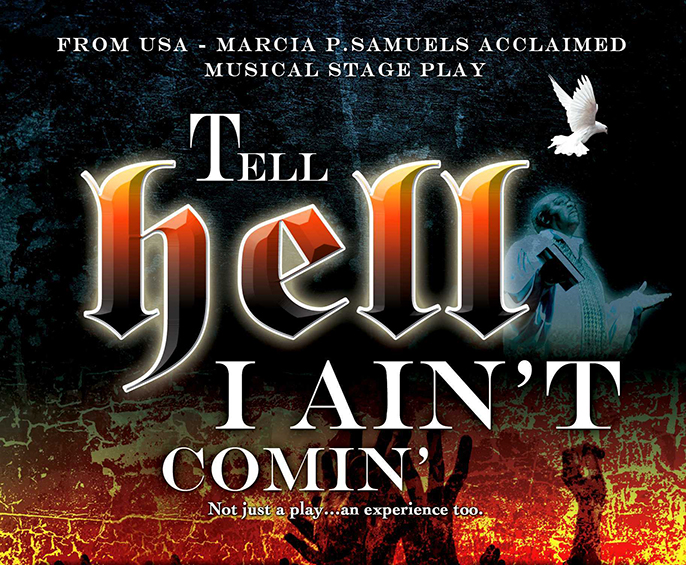 HALF PRICE TICKETS FOR THURSDAY 7 APRIL 2011
*Half price ticket offer of £10 for the £20 tickets and £12 for £25 tickets for Thursday 7 April only*
The nationally acclaimed musical Tell Hell I Ain't Comin' is a thrilling Broadway calibre musical that has entertained and inspired audiences during its performances across USA including New York, Los Angeles, Denver, Chicago and Atlanta - now London. Tell Hell I Ain't Comin' is a thought-provoking journey that introduces characters from everyday life and chronicles events that led to their assignment to hell. Some people you will expect to see there while others will surprise you.
The musical explores the spiritual journey of a devout man of God who appears to have passed away and arrives at heaven's gate, where he discovers he must enter another gate that leads to hell. While in hell, he meets a series of colourful characters that all have a story to tell as to why they don't belong in hell, and if given a second chance, their earthly life would be different.
Through a series of emotionally charged scenes, comedic encounters, moving songs, and dazzling dance numbers, our man of God discovers hope and his glory.
This musical is sure to make you laugh, cry, stand up on your feet and shout. With an all star cast both from the USA and UK the production boasts heart wrenching scenes, powerhouse songs, big dance numbers and a powerful story that will touch your very soul.
"And the devil that deceived them was cast into the lake of fire and brimstone, where the beast and the false prophet are, and shall be tormented day and night forever and ever." (Revelation 20:10)
Info: Tell Hell I Ain't Comin' | Time: 7.30pm & 3pm on Saturday | Address: Broadway Theatre, Catford, London SE6 4RU | www.dontugo.com