Talawa's Writers' Group presents Unzipped 2009 at the Young Vic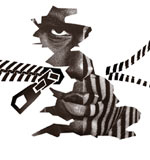 Unzipped 2009 is the culmination of a year's work by Talawa's Writers' Group (TWG), which this year has included Roy Williams, Malorie Blackman, Kwame Kwei-Armah, Michael Abbensetts, Winsome Pinnock, Michael Bhim, Oladipo Agboluaje, Sudha Buchar, Ben Yeoh and Patricia Cumper.
Now in its fourth year, Unzipped is an unmissable season of play readings and impassioned discussion.  Over two evenings at the Young Vic, rehearsed readings of the most exciting work from these playwrights will be accompanied by compelling debate on key questions facing the industry.
The TWG project improves the skills of experienced Black Asian and Minority Ethnic writers for sustainability in an industry short on minorities.   Writers are given a year long programme to learn advanced writing techniques directly from some of the leading lights in theatre and writing. To date, the programme has had a positive impact on over 40 writers.  It has become a working resource for the BBC via BBC Writersroom, Eastenders Shadow programme, Royal Court/BBC 50 amongst others, and has linked writers and their work with the Royal Court, Contact Theare (Manchester), Hampstead Theatre, Soho Theatre, Theatre Royal Stratford East and The Gate.
UNZIPPED 2009: Thursday 16th April, 7pm
Young Vic, Maria Studio

Accessibility vs Authenticity: Do we sell out to sellout?
With excerpts by: Michael Abbensetts; Roy Williams and  Winsome Pinnock
Storyteller or History Maker: Who do you think you are?
With excerpts by: Malorie Blackman; Oladipo Agboluaje and Sudha Buchar
UNZIPPED 2009: Saturday 18th April, 7pm
Young Vic, Maria Studio
Post multi-culturalism: What colour are you now?
With excerpts by: Kwame Kwei-Armah; Ben Yeoh; Michael Bhim and  Patricia Cumper
Panellists to include Bradley Quirk (UK Film Council) and Kate Rowland (Director of New Writing, BBC).
Talawa's Writers' Group presents Unzipped 2009 at the Young Vic on 16 and 18 April, 7pm
Address: The Young Vic, 66, The Cut, Waterloo SE1 8LZ
Box office: 020 7922 2922
Tickets: £6 in advance/£8 on the door or £10 in advance for both days