State of Emergency present Mission Possible - Dads and Lads Move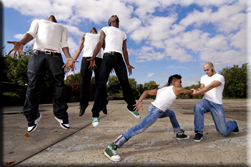 Mission Possible – Dads and Lads Move, is a dynamic new show in three parts taking an explorative look at the male psyche. Leading black British choreographers Jeanefer Jean-Charles, Kwesi Johnson and Colin Poole have each created brand new pieces of dance theatre putting male relationships under the microscope, studying classic role models and exploring the male perspective.  From the emotional bond between father and son to the solidarity and relaxed approach of friendship, five spectacular male dancers present snapshots of young men in the 21st Century.  This is the fifth Mission National Showcase Tour – an established event that has launched the careers of many respected black British choreographers.  State of Emergency is working in partnership with Jeanefer Jean-Charles whose idea was a key factor in developing this project into a full scale tour.
State of Emergency has been in existence for over 20 years and is an arts production and management company committed to the support, development and profiling of black choreographic work working with a variety of dance styles.  SoE is pursuing its vision through the driving force of The Mission programme - performances, showcases, tours, festivals, artists' training and professional development - designed to inspire and support black choreographers to create and perform new work.  State of Emergency's director, Deborah Baddoo, has been a pioneer for black dance since the 1980s. As a practitioner, and then as a producer, she has consistently maintained an articulate and inclusive philosophy, producing acclaimed work that has helped to set a precedent not just for Black dance, but for dance in general.
February
5 - Hextable Dance, Swanley / www.hextabledance.com
6 - Arena Theatre, Wolverhampton / www.arenatheatre.info
11 - Macrobert, University of Stirling, Scotland / www.macrobert.org
13  - Swindon Dance, Swindon, / www.swindondance.org.uk
27  - Barbican Theatre, Plymouth / www.barbicantheatre.co.uk
March
3  - The Place, Robin Howard Theatre / www.theplace.org.uk
5  - The Brewhouse Theatre, Somerset / www.thebrewhouse.net
6  - The Subscription Rooms, Stroud / www.stroud.gov.uk/subrooms
7  - The Cut, Halesworth / www.newcut.org
19  - Contact, Oxford Road, Manchester, M15 / www.contact-theatre.org
April
2 - Catmose Theatre, Oakham / 01572 722286 / 01572 725904
9 - The Hat Factory, Luton / www.hatfactory.org