Brent's Youth Theatre Project  presents Kross Roadz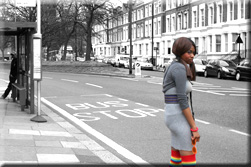 Kross Roadz is an original piece of musical theatre that has been developed with over a hundred 11-25 year olds from across Brent since last summer 2008. With a fusion of modern of original modern songs and dance, we follow the dreams, struggles and confusions of 16 year old Stephanie, the story explores themes of identity, peer pressure and responsibility, of being a young refugee trying to find her place in a modern London school.
New Life Arts (NLA), a consortium of Youth providers in South Kilburn, has been collaborating with young people from Brent and HipHology; to create Aspire, a brand new youth theatre project, who are presenting their first work in April 2009 at the Granville Plus Youth Arts Centre.
With funding from Brent's Youth Opportunity Fund, Brent Youth Service, South Kilburn NDC and Brent Housing Partnership, Aspire has been a big project for local young people who want to try their hands at the different aspects of staging a production – drama, design, music, marketing, costume design, lighting, sound and choreography. Top set designer Yann Seabra, a team of PR consultants, song-writers and professional actors have been guiding the young cast and crew through the process, offering valuable careers advice along the way.
What participants are saying: "I've met some great people and learned a lot" Patrice Stephens aged 15 (Stephanie in 'Kross Roadz')
Kross Roadz will be premiered by the Aspire Youth Theatre Project from 16-18 April at Granville Plus Youth Arts Centre, 7.30pm
Address: Granville Plus Youth Arts Centre, 80 Granville Road, London NW6 5RA
Box Office: Richard on 0207 6044620
Tickets: £7.50 / £5 for children age 16 and under