Dolphins and Sharks – review
Finborough Theatre
Words by:

Lindsay Johns

| Published:

Thursday, September 28, 2017 8:45 AM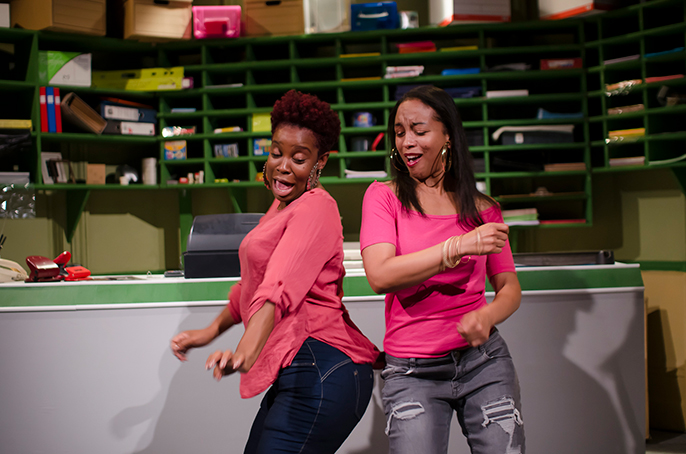 Dolphins and Sharks  (see listing) by the African-American playwright James Anthony Tyler is a powerful, profound and very enjoyable dramatisation of the 19th century British politician Lord Acton's famous epithet about the corrosive effects of power: "Power tends to corrupt and absolute power corrupts absolutely."
Set in a neighbourhood photocopy shop in Harlem in 2014, the play follows the lives, ambitions and frustrations of employees who will do anything to get ahead. Stealing from the till, spying on colleagues and jockeying for promotion are all fair game in the workplace quest for money and power.
Dolphins and Sharks is an emotionally complex and thought-provoking triumph, which deserves to be widely seen
Focusing on the at times friendly, at times tense interplay between the shop staff, we are presented with five strongly drawn characters: Isabel (the African-American sales assistant), Yusuf (the Nigerian-American NYU philosophy graduate), Danielo (the lazy, inept Dominican janitor), Amenze (the loyal but free-loading customer) and Xiomara (the Dominican, Jenny-from-the-block homegirl turned newly promoted, highly ambitious store manager).
All the familiar tropes one would expect are here and are dealt with skillfully: insouciant white gentrification of a historic black neighbourhood; a heartless, cost-cutting boss; the subtle differences between the Dominican-American and the African-American experience and the mutual distrust and antipathy between African-Americans and African immigrants.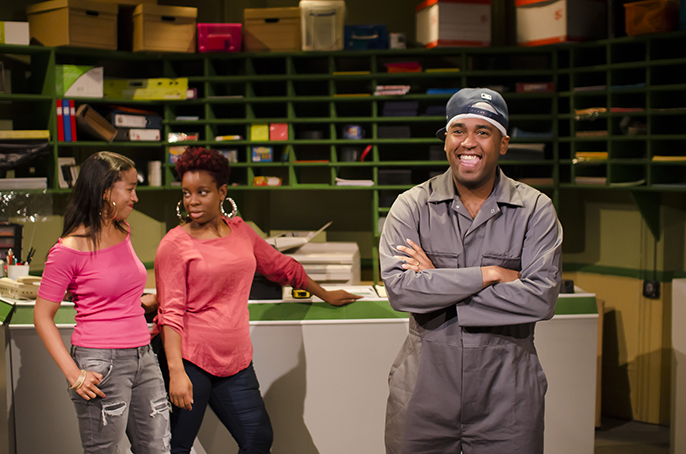 At times raw, at times funny, and despite being couched in often painfully repetitive and histrionic, Harlem-esque profanity, Dolphins and Sharks is an intelligent, nuanced and wholly universal portrayal of the travails and vicissitudes of the working environment - one sadly played out in offices every day across the world.
At its core, Dolphins and Sharks eloquently articulates not only the emptiness and soullessness of the daily grind, but also the relentless nature of office politics - the petty jealousies, the verbal one-upmanship and the mundane squabbles which animate our 9 to 5 and which compound the struggle to makes end meet on a minimum wage.
Shyko Amos is excellent as the sassy, overweight Isabel with a heart of gold but a potty mouth. Rachel Handshaw does sterling work as Xiomara, with her sexy Machiavellian duplicity and ruthless dissimulation. Ammar Duffus as Yusef is both watchable and believable as the impassioned graduate with a sense of entitlement, Hermeilio Aquino as Danielo has charisma and a captivating stage presence and Miquel Brown shines as Amenze the community stalwart.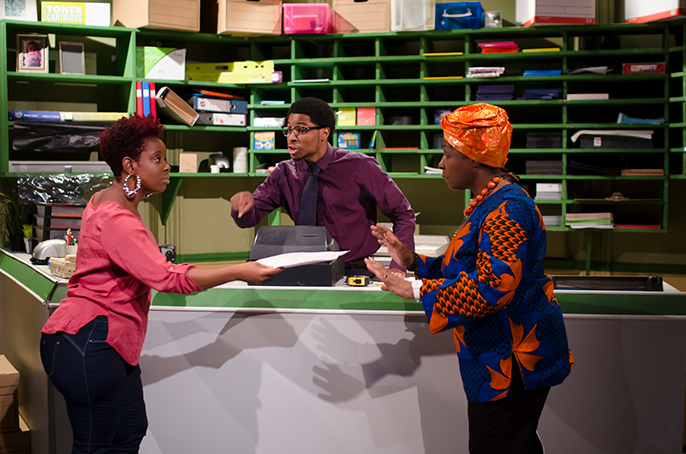 Directed with sensitivity by Lydia Parker and with a great set design by Anna Driftmier, plus a vivacious reggaeton, rap and bachata soundtrack during the intermission, the soul of African-American and Spanish Caribbean Harlem is forcefully brought alive in this production.
Given its very specific urban geographical setting, the play's strong racial subtext is both inevitable and apposite. Given America's troubled racial history, the metaphor of working life as a prison chain gang, of work as slavery by another name is rightfully foregrounded.
Despite a slightly predictable denouement and with some stereotypical characters (e.g. the booty shaking, finger wagging "ghetto hoodrat"), the play makes convincing and forceful points about the exploitation of the (black) proletariat by rapacious (white) capitalists and in conclusion promulgates how workers can best fight back against the unjust status quo - through human and racial solidarity in the face of economic exploitation.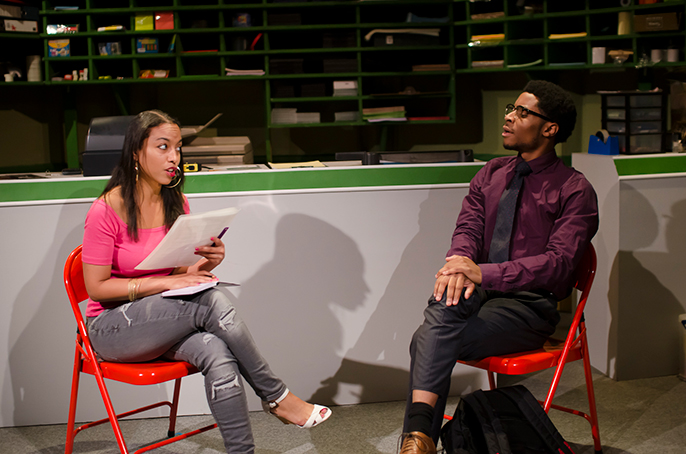 A refreshing and welcome change from the traditional black British "street" narratives usually on offer in London's theatres, Dolphins and Sharks is an emotionally complex and thought-provoking triumph, which deserves to be widely seen.
Like Tarell Alvin McCraney (read interview) and Brandon Jacobs-Jenkins, James Anthony Tyler is a contemporary African-American playwright engaged in telling truth to power with profoundly human, engaging and memorable stories. Tyler is certainly not only one to watch for the future, but one to catch now.