Pale Imitations – review
Rosemary Branch Theatre
Published:

Thursday, September 15, 2016 10:45 AM

| Review by: Mike Scott-Harding |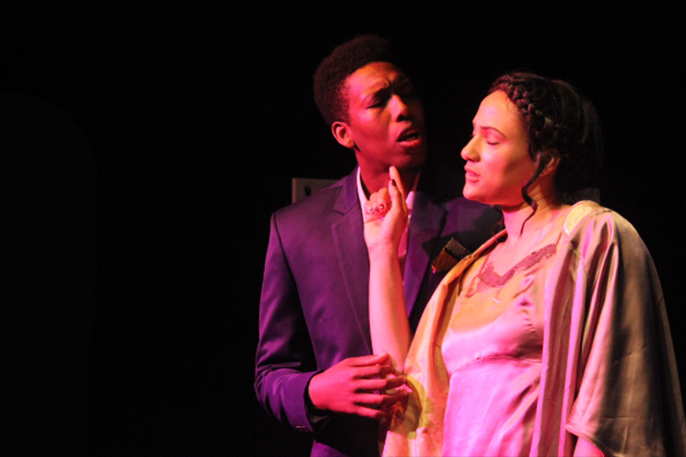 The piece starts off with the sax/drum/piano ensemble playing live jazz. The slow, relaxed atmospheric 'soundtrack' works well, and sets the mood for composer/musical director, Nazarene Mighty, to serenade us. After Naz's song – 'Emotions' – she vacates the stage, leaving the musicians to provide us with a series of evocative musical backdrops.
At this point, we are introduced to soon-to-be-married Ramone, and Carl - his best friend and 'best man' – on the former's stag night.
Having a sudden crisis-of-confidence, Ramone confesses to Carl that he still has feelings for his ex-girlfriend of 10 years (Indiana) and – despite Carl's protests – goes off in search of her.
Indiana is now a celebrated African art curator and – although single – is fiercely independent of both mind and spirit. When Ramone arrives at her balcony, she is reluctant to let him in but – after a brief discussion – she relents. What follows is a series of revelations (mainly involving his 'best man'), and a discussion that boils down to: nostalgia versus commitment.
With the band performing a live jazz soundtrack – echoing and punctuating much of the 'beat-poetry' dialogue - the mood is set for emotional fireworks. Unfortunately, the sparks don't quite fly.
Simone McIntyre's Indiana and Jerome Wise's Ramone never seem as 'close' as they profess. Despite – or maybe because of - their physical proximity, they never appear to be connected; their body language feels a bit… staged – polite, almost.
The tensions between Ramone and Carl are stated clearly enough. Both having been in the same jazz band 'back in the day', Ramone is the one to have gotten signed-up, thus becoming a big star. Carl meanwhile, is left behind to scrape a creative living by selling his 'mix-tapes' on the street - awaiting a call that never comes. So Carl goes behind Ramone's back and engages inappropriately with his friend's present – and former – partner. 'Best' men, eh?
The text is split into three distinct types - exposition, hipster rhythms, and emotional schisms. Alas, the combined score – live band notwithstanding - seems a little… one note. As the delineations are not clear enough, perhaps a few 'f-bombs' wouldn't go amiss - just to accentuate the real.
There are some interesting moments – not least when Carl (played with passion by Alexander Kiffin) has a two-way dialogue with a busking saxophonist. But the message flounders, as the play speeds too quickly between narrative specificity, and broader strokes (clichés).
In this play, the (black) woman – in art, as in life - is held up as the 'keeper of the flame' (as opposed to 'the holder of the candle').
We're also reminded that men – even those about to get married - are 'flaky', constantly spray on each other's territories, and fight amongst themselves over status and the 'acquisition' of women. Meanwhile, women are held up to higher scrutiny… not least by other women.
All of these motifs may have merit but, without the combining elements, all we have are sketches.
This play starts to say interesting things about conditions of the heart - and the art - but it doesn't quite coalesce not in this iteration, at least.
Info: Pale Imitations was at the Rosemary Branch Theatre, 13 Sept 2016 | See listing