Counting Stars by Atiha Sen Gupta – review
Theatre Royal Stratford East
Published:

Sunday, September 4, 2016 1:55 PM

| Review by: Adelaide Obeng |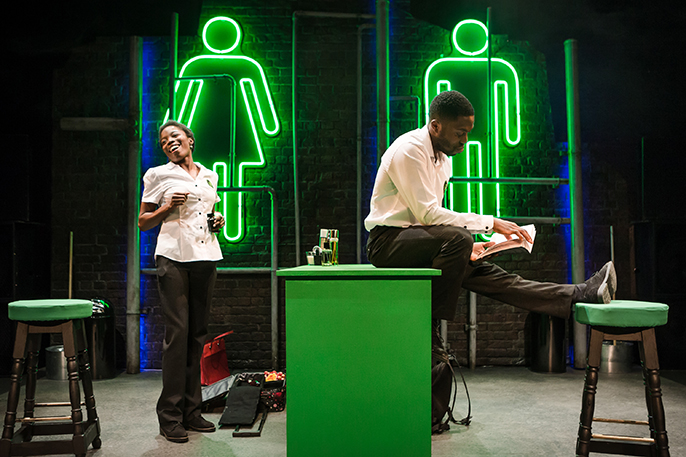 Counting Stars does not patronise or alienate, instead it is inviting, gripping and heartfelt. This is an important piece of theatre".
Atiha Sen Gupta's heart breaking new offering is a familiar story of love but in an unfamiliar circumstance. Counting Stars (see listing) is a sharp glimpse into the lives of societies most exploited people.
With bouncers on the door into the theatre, colourful shots on the bar, flashing lights, neon toilet signs and loud pop music; the immersive environment is done right.
Trying to make enough money to live and pay rent, Adiodun (Lanre Malaolu) and Sophie (Estella Daniels) are toilet attendants in the same Woolwich club. They are both Nigerian, educated and totally, beautifully in love.
With cubicles on opposite sides of the club they see each other only fleetingly when their toilet doors are swung open at the same time. Tonight is a special night, it's St Valentine's Day which coincidences with Sophie's and Adiodun's first year anniversary. Existing on tips alone, Sophie is gearing up for a good night at work and her own Valentine's celebrations later.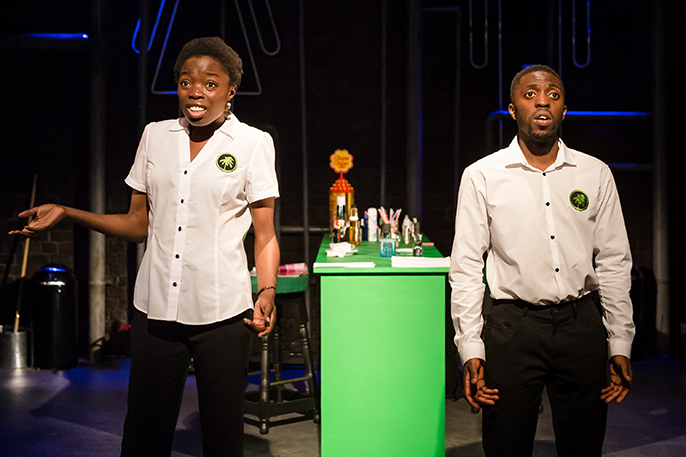 In Sophie's toilet her sunny presence shines brightly and beautifully. She is passionate and kind hearted, dealing well with her inappropriately flirtatious boss and emotional cliental in a spirited way. In Adiodun's stall however we receive a more visceral experience of the injustice of the situation and the degrading work conditions.
Over the course of four hours in the club toilets, we meet four different characters in Adiodun's and Sophie's lives from employers to clubbers. They offer context and an array of motivations from oppressor to ignorant youth and self absorption, confusion and perhaps in the case of ex-girlfriend come landlady envy of this hard working, unpaid couple.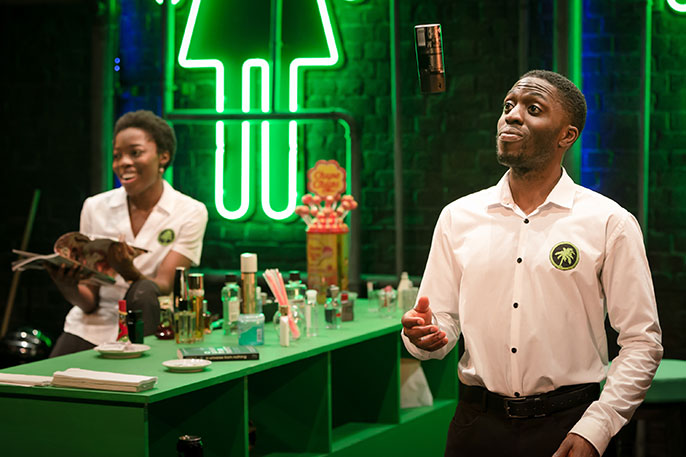 The intelligent and vibrant personalities of Sophie and Adiodun make this tale funny in places, Adiodun's realism and sober comments about the club manager and cliental being particularly astute.
Impossible as it is to pour the complex details of this couples life into a piece that runs just over an hour long, Atiha manages elegantly to capture a slice that feels complete. Workers like Sophie and Adiodun are not uncommon but their stories are rarely told in such an honest way. What is on show here is humanity, its fierce-ness, its injustices, its perseverance. Yet the piece does not patronise or alienate, instead it is inviting, gripping and heartfelt. This is an important piece of theatre.