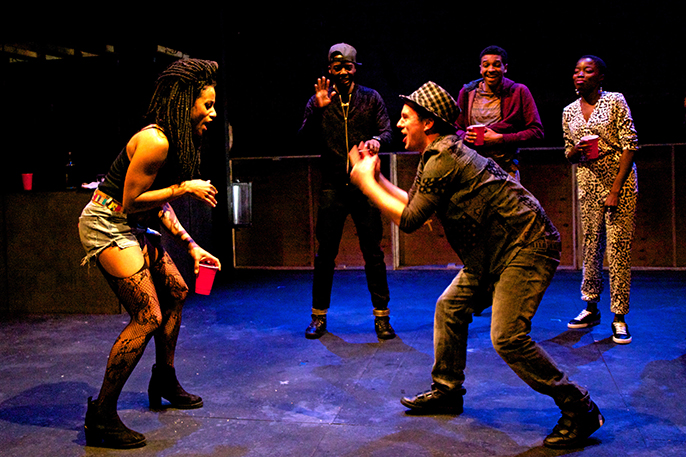 Special kudos must go to the writer, Kristiana Rae Colon, for – not only creating so many great poetic moments - but for knitting together such interesting characters, storylines, and ideas.
The Octagon, by Kristiana Rae Colon is an interesting beast; part straight play, part social commentary, part gender-politics polemic, part reality TV docu-drama, part 'poetry-slam', and part 'zeitgeist-y call-to-arms'. It is challenging, infuriating, and rewarding - often at the same time.
Pinning its colours to the mast, it starts off in darkness before strobe-lighting reveals a five-way 'poetry-spit' (punctuated by 'stomp-clap' percussion), and – before you've drawn breath - a sexual tryst which ends in near-asphyxiation.
Set around the lead-up to an annual poetry competition ('The Octagon'), the piece focuses on a group of young poets, each with their own agendas, hopes, and fears.
'Chad' (Harry Jardine), 'Palace' (Asan N'Jie), and 'Chimney' (Solomon Israel) are three-quarters of a poet-ensemble put together for the preliminary round at the 'Junction Club'. In the absence of the recently-retired 'Iggy' (merchant banker), the three of them bicker, banter, and battle for supremacy.
'Chimney' is a careerist who plays up to the (unseen) cameras and documentary-makers in the hope that he can get far enough ahead in the game to secure himself lucrative contracts.
'Palace' is a young, optimistic – almost naïve – young man. He is wor(l)dly-wise enough to create and perform tight, concise social commentaries ('Close but no cigar' is a standout), yet still he gets disappointed when those around him don't share his idealistic vision ("I wanna write 'happy poems' – is that a thing?").
'Chad' (Harry Jardine) is a philosopher, teacher, Christian, and social activist whose biggest flaw is that he doesn't have a sense of his own narcissism.
Around them flow (literally and figuratively)… the women.
'Jericho' (Crystal Condie) is a 'for real' female activist, the political conscience of the group who is still in the process of 'finding herself' (within the group as well as outside of it). Her first poem - "Malala writes to Miley Cyrus" - is superb.
'Prism' (Lara Rosa) is a feral, cerebral, physical force-of-nature. She derives as much pleasure from blowing the minds of audiences and fellow-poets alike, as she does from blowing the 'heads' of(f) her many (male) lovers. She is a walking contradiction: at once free from the constraints of social acceptance, and yet bound by her need to find a male-equal. To this end, she has an on-off, 'no-strings' relationship with 'Tide' (Leemore Marrett Jr.
'Tide', although not part of the ensemble, is still fighting as much for Prism's heart as for his place in 'Octagon', and – though not having a stand-out moment – one always senses his quiet, thoughtful presence.
Also fighting is 'Atticus' (Martin Imhangbe), a veteran of Afghanistan, and a 'virgin' of the poetry slams. I found this character a little 'one-note', but maybe that was the intention. The ensuing love-triangle between 'Prism', 'Tide', and 'Atticus' – while somewhat extreme – certainly feels real (and tragic) enough.
Everyone acquits themselves well, but the stand-out character (and performance) is 'The watcher named Pen' (Estella Daniels). As the owner/runner of the 'Junction Club', 'Pen' combines the duties of Master of Ceremonies, ringmaster, poet, and therapist with poise, charm, and world-weary conviction
("You always lose when you play from you hurt – if you wanna win, you play from your power!"). Miss Daniels, with effortless charisma, ties the piece together beautifully, and should be commended.
Many different ideas are utilized to further plot and characterisation: on-camera 'interviews', improvised poetry battles, open-mic poetry performance, as well as dramatic dialogue. At times, 3 or 4 performers play 'tag' while reciting individual monologues from different areas of the stage. The inter-connecting ('cutting-up') of the speeches is oftentimes exhilarating (albeit, frustrating if you miss an individual performer's 'train'). It's 'Poetry in (com)motion', you might say(!)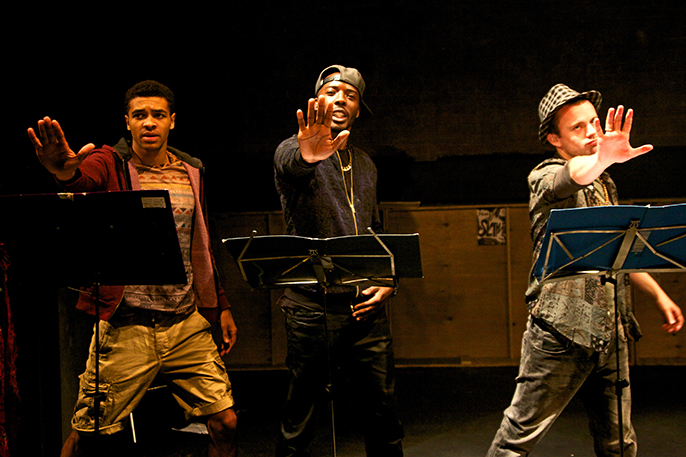 The Octagon is challenging, infuriating, and rewarding - often at the same time.



The piece is not perfect. Some of the reductive and misogynistic rhetoric /actions may be a little uncomfortable for some (having said that, the ladies often set the agenda and generally give as good as they get).
Also, it loses its momentum after the interval and the denouement – although narratively satisfying – seems a little anti-climatic after much that has gone before (maybe that's the point).
At times, it betrays its collaborative roots (having undergone extensive semi-improvised workshops in Chicago), and the surfeit of ideas make it seem a little like a university lecture at times. But then, the phrase: 'better to have and not need, than to need and not have' applies to theatre just as much as anything else.
[Booklets are available, enabling audience-members to watch the performance safe in the knowledge that they can peruse their favourite poems/moments later, and at their leisure. I'd recommend this, as the script rewards re-reading]
At almost two-and-a half hours, "Octagon" might be a tad long. It juggles many different balls, only just managing to keep them aloft due to the high energy, innovative use of staging (and lighting), some committed performances, and the sheer quality of the poetry.
Special kudos must go to the writer, Kristiana Rae Colon, for – not only creating so many great poetic moments - but for knitting together such interesting characters, storylines, and ideas.
Also, the direction (Nadia Latif), set-design (Lorna Ritchie), lighting (Christopher Nairne), and sound (Simon Slater) work seamlessly to support the words and performances, helping us to – as they say in the piece – "Listen to the poem".
With so many angles covered, 'Octagon' is recommended to poets young and old.