Black Spartacus – review
Courtyard Theatre
Published:

Friday, September 11, 2015 8:50 AM

| Review by:

Lindsay Johns

|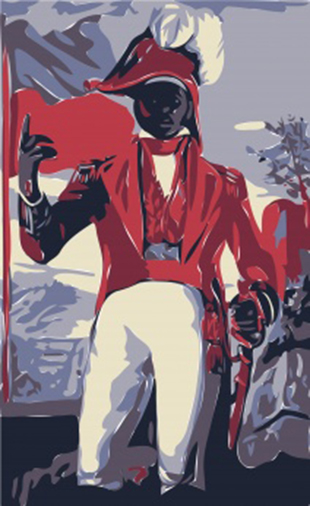 The hugely inspirational life, times and achievements of Toussaint L'Ouverture - the Haitian slave revolt leader who in 1791 helped Haiti begin to shake off the brutal shackles of French colonial oppression and eventually become in 1804 the first Black Republic in the Western hemisphere - are the compelling subject of Black Spartacus by Anthony Maddalena at the Courtyard Theatre.
The profoundly heroic, deeply principled L'Ouverture should of course by now be a household name all over Britain (let alone the world) – a byword for liberty, justice and equality. But sadly he is not. This play laudably attempts to rectify this glaring lacuna in our education, especially vis à vis the Francophone Caribbean and its turbulent, tragic and internecine history.
This hitherto neglected colossus was born in 1743 on a plantation in what is now northern Haiti and remained a slave until the age of 45. A voracious reader, L'Ouverture was a fiercely intelligent autodidact who became a gifted military strategist (having studied Julius Caesar's writings) as well as a skilled diplomat and thus managed to defeat the French, British and Spanish – an unparalleled feat, given his army's meagre resources and lack of formal training.
The Trinidadian historian and polymath C.L.R. James' book on the Haitian revolution The Black Jacobins (which should be on the national curriculum) is the basis for much of the play's detail about L'Ouverture's meteoric rise to power and his subsequent struggles with his generals Dessalines and Christophe.
Black Spartacus is undoubtedly a valiant attempt to bring a great man's story to life and a meaningful effort to shine a light on a seminal moment in human history.


The play's title – a quotation by a French general who hailed L'Ouverture as "The Black Spartacus avenging his people of ancient wrongs" – thus draws a powerful and apposite parallel from antiquity with the infamous gladiator who led a slave revolt against the Romans in 72 BC (and who was subsequently immortalized in the 1960 epic film starring the dimpled Kirk Douglas).
Wordsworth's famous 1803 sonnet to Toussaint (who died in captivity in the Jura mountains in France after having been ignominiously tricked and captured by a duplicitous Napoleon) is a poignant reminder of the massive effect L'Ouverture had on the popular consciousness of the time and of the impact his heroic actions had on the Western romantic imagination.
Director Joseph Charles' intimate production succeeds in articulating the priceless quest for human liberty, often against seemingly insurmountable obstacles and reminds us that freedom is an inalienable human right. Moreover, the callous brutality and manifold horrors of slavery are forcefully conveyed throughout the play. For me, the innate dignity of the human spirit in the context of the desire to be free and the need to extirpate evil, oppression and injustice with alacrity wherever it is found are without doubt the most memorable and moving aspects of Black Spartacus.
Jim Findlay as Toussaint - in a hugely demanding role - is thoroughly convincing as the intensely moral, perennially forgiving and finally gullible hero. Humble and diffident to start, yet strong when needed, his is a thespian triumph. Ben Onwukwe as Dessalines and Devon Morgan as drunkard Biassou both give warm, charismatic performances, as does Allison Mason as a beguiling, curiously Yardified voodoo priestess.
However, the discombobulatingly strong Jamaican and Trinidadian accents (as opposed to French Caribbean ones), the use of modern day costumes (as opposed to period clothes) and the confusing decision to cast visibly mixed-race actors as black characters who then proceed to condemn and murder the mulatto elite (pigmentocracy being a crucial part of the Haitian historical narrative), were all perplexing artistic decisions.
We in Britain certainly need more knowledge of Toussaint L'Ouverture



This is an important, exceedingly well-intentioned play, which deserves to be widely seen. But history of this magnitude equally merits better treatment, both in terms of dialogue and acting. Lacking in convincing emotional resonance or depth, it is hard to care about these characters beyond their historical significance, as the play is (perhaps somewhat inevitably) simply too much of a history lesson. Despite the atmospheric African drumming and the frenetic, stylishly choreographed voodoo dancing, it does not make for wholly engaging theatre.
That said – and probably the main reason why I would encourage people to catch this play before it ends - one always wonders: if the teenagers currently stabbing each other to death with gleeful abandon on the streets of London had known about or even heard of positive, intelligent black male role models like L'Ouverture, instead of merely having unashamedly hedonistic, brain dead rappers glorifying bling culture to look up to, would they now be disposing of their lives so wantonly, or might they be imbued with a greater sense of purpose, vision and desire for self-preservation?
Black Spartacus is undoubtedly a valiant attempt to bring a great man's story to life and a meaningful effort to shine a light on a seminal moment in human history. For this, we must be thankful and resolutely applaud the aim of both writer and director. Even though there is room for both, we in Britain certainly need more knowledge of Toussaint L'Ouverture (and arguably less of Mary Seacole). But this play is infinitely more important for the story of the man it dramatizes and the noble ideals it espouses than for the quality of the constituent parts, which make up a truly great theatrical experience.
Go out of loyalty to the cause and you won't be disappointed. Go for anything else and you might be. But regardless, make sure you buy a copy of C.L.R. James' magisterial The Black Jacobins and shout the name of Toussaint L'Ouverture from the rooftops for everyone to hear.