Macbeth after Verdi, The Barbican - review
Published:

Sunday, September 21, 2014 9:20 AM

| Review by:

Uchenna Izundu

|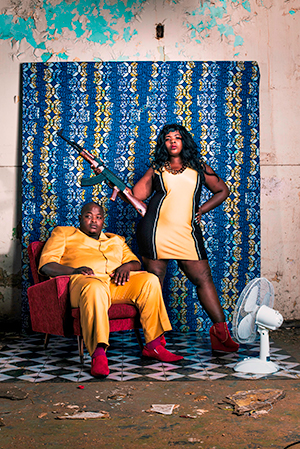 Using war torn Democratic Republic of Congo as the landscape, South African theatre maker Brett Bailey has successfully created a 3D multimedia piece that juxtaposes and synergizes opera composer Giuseppe Verdi's interpretation of Macbeth in the 21st century.
Spurred on by his wife, the demise of Macbeth in his lust for ultimate power still resonates today with William Shakespeare's observations about the human condition. This is why Bailey's transposition to Eastern Congo, where there have been over 5.4 million war related deaths since 2007, is so powerful as a taut political thriller.
With that synopsis, it appears there is little room for humour, but Bailey injects that with text messages from Macbeth to his wife: 'Babe, saw the witches who said I'll be general. Wtf? C u lata'. And the twisted symbolism of the black power fist shaped as a regal cap on Macbeth's head provides an 'in joke' throughout the whole production considering he stirs and plays off on regional, national and military power, as well as economic resources.
A war that few in the West are familiar with, its ripple effects hit home with artists' renditions of mobile phones and laptops, which rely upon the rich minerals, furrowed from Eastern Congo.
The link between the past and the present is through the refugee performers who discover an old trunk containing theatrical items from an amateur company that performed Verdi's opera in the region during the colonial period. Owen Metsileng is a staunch Macbeth and Nobulumko Mngxekeza, who plays his wife, is haunting.
"Owen Metsileng is a staunch Macbeth and Nobulumko Mngxekeza, who plays his wife, is haunting".
Great as it was to have the Italian opera translated into English on the screens, it was distracting trying to read the lines and follow what was going on stage. Blazing African textile prints provide the backdrop for the eerie scenes lit by Felice Ross as tensions escalate to the death for mineral resources. Bailey has infused an Afropolitan collage of old and new that at times is jarring, but somehow overall just seems to work.