Choir Boy by Tarell Alvin McCraney, Royal Court Theatre
Published:

Tuesday, September 11, 2012 13:36

| Review by:

Lindsay Johns

|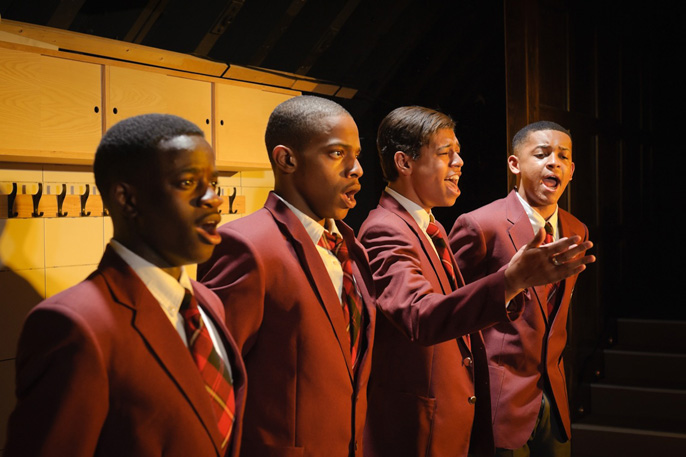 Famous for his coruscating 2008 debut The Brothers Size, followed by In The Red And Brown Water, with their fusion of the African-American Deep South experience with Yoruba deity myths, Tarell Alvin McCraney is an Ivy League educated playwright from Miami, whose fiercely intelligent, lyrical, black, gay voice has already shed much needed light on themes of race, identity and sexuality.

His new play Choir Boy, set in an all-black, American prep school, is astonishingly good, nay brilliant. Scintillating with emotion, pathos and intelligence, it is a magisterial work, which I feel privileged to have watched.

Ostensibly about the rivalries to be the lead singer in the school choir between the flamboyantly gay choir leader Pharus and the headmaster's nephew Bobby, the play examines attitudes to homophobia, identity, male friendship and integrity within a prep school environment, where a reverence for tradition and conformity (clearly modelled on HBCUs like Moorhouse) engenders much internal conflict.

Choir Boy, directed by Dominic Cooke, is replete with big, meaningful themes, be it the loneliness of the perennial outsider (in this case Pharus, abused and ostracised because of his sexual orientation), the development of love and tolerance for those who are different or sexual repression and denial about one's sexual identity, to name a few, but skilfully and adroitly explores each one with great control and admirable finesse.

The depiction of the relationship between the students and Dr. Pendleton, the old, white teacher who marched with Dr. King and abhors the N word, and who is called out of retirement by the Machiavellian headmaster to teach a critical thinking class and heal the rift in the choir, is a joy to behold.

The choral singing is divine and the intellectual challenging, nay demolition, of spurious Afrocentric "feel-good" myths about Negro spirituals is as entertaining as it is true. Moreover, the play forcefully yet skilfully challenges our attitudes to homophobia and the complexities of acceptance.

The dialogue, couched in the often mellifluous rhythms of African-American southern teenage slang, is trenchant, intelligent, poignant and incisive and the acting, just like the singing, is, to lapse into McCraney's vernacular, off the hook.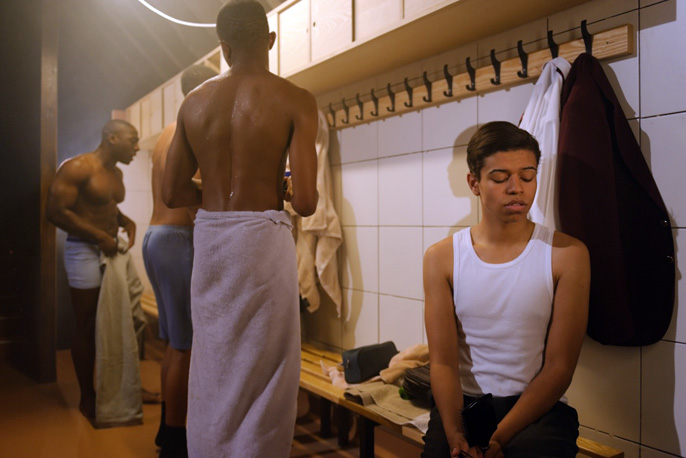 With a wonderfully evocative panelled wood set designed by Ultz and actors taking their places amongst the audience for lessons, the Jerwood Theatre Upstairs at the Court is the perfect intimate setting for this play.

With its incredibly powerful, emotional denouement making for a thrilling climax, this is a breathtakingly beautiful, masterful piece of theatre.

Hopefully a play like Choir Boy can begin the conversation about homophobia, bigotry, tolerance and humanity (not just in the black community, but in any community), which still needs to be had.

McCraney is a hugely talented playwright. In a two-hour period, Choir Boy gives an effortless masterclass for the "You get mi, blud" generation of black British playwrights on how to write a magnificent play. I predict that Choir Boy will soon become a modern American classic. If needs be, pawn your grandmother's jewellery, or even sell your own clothes, to procure a ticket.
Info: Choir Boy is at the Royal Court Theatre until October 6