Grupo Corpo Ímã & Onqotô, Sadler's Wells
Published:

Friday, September 16, 2011 11:04

| Review by:

Keji Dalemo

|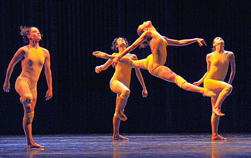 In 'Ímã' and 'Onqotô', Grupo Corpo, the 30 years strong Brazilian contemporary dance company, bring two of their most accomplished dance pieces to London's Sadler's Wells.

Spanning two hours these two pieces exhibited a range of dance styles from ballet to contemporary to tap creatively going beyond established traditions to transform and elevate everyday movements, even sport, into dance.

The quality of Rodrigo Pederneiras's choreography was both complex and intricate with flashes of brilliance evident in both sets. The most memorable and visually intriguing was the opening arrangement in 'Ímã' where, partnered into male/female duos, a half dozen pairs of dancers, legs entwined, bodies formed to create an inverted crab, 'crawled' sporadically across the stage with speed and bursts of sudden contortions of their beautifully toned and agile bodies. Of the numerous dance arrangements that followed, this was the most memorable and exciting and arguably the peak of both sets.

An impressive display delivered with deceptive ease by the awesome cast of dancers.

While I found the choreography in Ímã more impressive, Onqotô delivered some beautiful balletic solo pieces by its male dancers. Where Onqotô excelled however was in Paolo Pederneiras's magnificent set and lighting where, when the dancers leaped into the stage's floor to ceiling length blinds, the rippling effect drew gasps of delight from the audience. In another arrangement, the dancers' shadows were illuminated but with a technical trickery that made them look like they were moving differently from their owners. Paulo Pederneiras's best illusion was in the form of the sculpted back of dancer Grey Araújo, which emerged, blurred, out of the dark like a mirage, the vision of it gradually intensifying in contrast until it was before you like the cold light of the day.

An hour for each set however felt too long. Each piece had too many arrangements so one began to take the skill of the choreography for granted and after perhaps the first 30 minutes, it became a little difficult to appreciate, if not just see, marked differences between each arrangement. This is however where the costume and set design reignited each performance. The combination of Freusa Zechmeister's employment of bold orange, hot pink and olive green costumes for the dancers and the lighting that punctuated the arrangements in Ímã was a feat, often making the stage look like the editorial pages of a Tashen high art catalogue.

The dancers have had little mention but they were immaculate in their execution for the full duration of both sets. Not a bead of sweat or strain threatened their performance. They moved gracefully making moves that requires an athlete's stamina and strength look effortless and beautiful.

The weakness in Ímã & Onqotô is the length of the performance; for a piece of entertainment it gives too much so you are not left wanting more but just a little tired.
---
Related links
Info: Grupo Corpo was at Sadler's Wells from 13-16 September 2011