A Clockwork Orange, Theatre Royal Stratford East
Published:

Thursday, September 15, 2011 16:16

| Review by:

Shari Bollers

|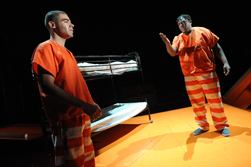 To celebrate the 50th anniversary of Anthony Burgess' cult novel A Clockwork Orange Theatre Royal Stratford East presents this adaptation. The production of A Clockwork Orange has parallels with the recent riots with a rampage of mindless thuggery by disaffected youth.

The production tells the Story of Alex and his band of merry hench men known as the 'Ninjas'. Their idea of fun involves 'ultra' violence and debauchery. They are a law onto themselves until Alex, still riding high on his own delights is subsequently set up by his friends because of the struggle of power in the hierarchy. He finds himself imprisoned and sharing a cell with a peculiar cellmate. Jail is not for Alex and he believes he has found his way out by opting to partake in aversion therapy.

Alex is far from stupid which is clearly seen by his use of language and the way he manipulates it. He has created his own vernacular that it is a joy and pleasure to hear as he playfully lures his words into the ears of the audience. You want to believe him to be a poet and not the articulate, narcissist, psychopath he in fact is. Alex is played by Ashley Hunter and it is hard to believe this was his first production as he played the role convincingly and effortlessly.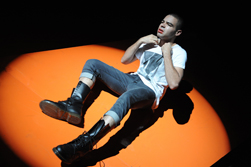 You are encapsulated into the space where you the audience surround the action. The small stage is utilised by making it a prison, a home, a bar in ways you wouldn't have imagined. The music is a fusion of soul, jazz, hip hop and a twist of spoken word. Although you might not know the songs it worked beautifully in accordance with choreographed movements of the actors.

Marcus Powell (who played Alex's dad and Priest) gave a sublime performance as he dexterously changes his vernacular perfectly for each role with Jamaican patois as the role of the dad and RP for the role as the priest. He reminds Alex that although he might go ahead for this rehabilitation he will be a clockwork orange (something unnatural). Alex willing volunteers to take part in the aversion therapy in the hope it will cure him. However you will need to go see the show to find out what happens.
---
Related links
A Clockwork Orange is at Theatre Royal Stratford East until October 1, 2011
Afridiziak interview with Ed Durante, writer, A Clockwork Orange
Lime magazine interview with Fred Carl, musical director, A Clockwork Orange