Pieces of Vincent, Arcola Theatre London
Published:

Monday, September 13, 2010 15:15

| Review by:

Sophia A Jackson

|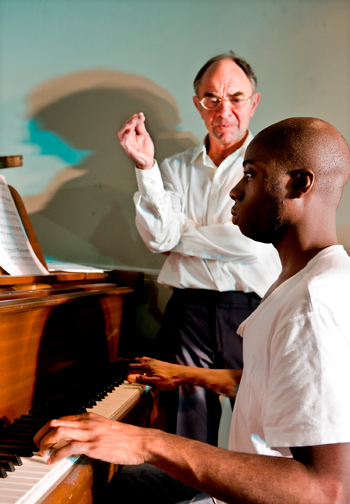 If you like your theatre experience to think out of the box and offer you something creatively unique and different then David Watson's Pieces of Vincent is for you. For starters the seating arrangements involve the audience taking centre stage as we are sat on cushions on the floor so we can swivel round for the different scenes. The set, designed by Es Devlin is behind a thin gauze that separates the cast from the audience and the scenes take place against the four walls using video installation.

Sound (Ian Dickinson), film (Daniel Lang) and lighting (Peter Mumford) play an integral part in making the play both atmospheric and thought provoking as we dip into the lives of nine characters and join the dots to see how the catastrophic actions of one individual causes lasting devastation to many.

Without giving too much of the storyline away, the timing of Pieces of Vincent is apt, as it is showing during the anniversary of 9/11. The play is a sign of the troubling times we live today where suicide bombers have the power to destruct the lives of innocent individuals.

Set between Northern Ireland, London and Birmingham, Pieces of Vincent gives brief encounters into the lives of individuals that the audience is invited to piece together like a jigsaw.

Although Pieces of Vincent could be accused of trying too hard, maybe even over ambitious – you have to admire a production that isn't afraid to try something new; even if it doesn't work for everyone.

The cast includes Joseph Rowe, Adam Best, Sian Clifford, Tricia Kelly, Kevin McMonagle, Charles Mnene, Dearbhla Molloy, Robin Soans, and Shane Zaza.