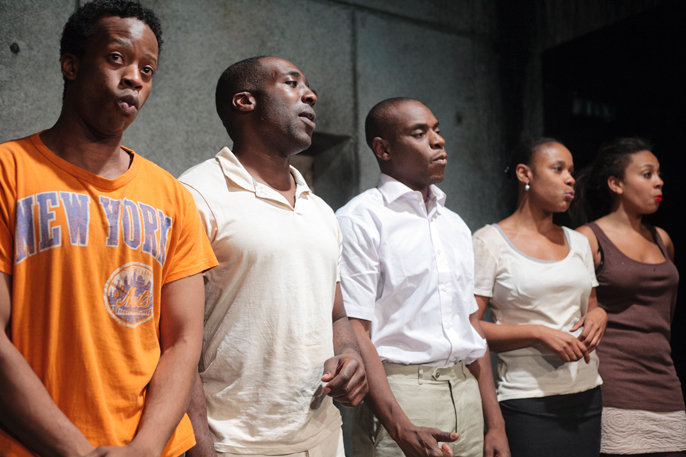 In the Blood is the kind of theatre production that stays with you long after you've applauded the cast for their superb performance.

Written by the first African-American woman to ever win a Pulitzer Prize, playwright and screenwriter Suzan-Lori Parks, In the Blood tells the heart-wrenching tale of Hester (Natasha Bain), her five fatherless children and their life on the poverty line.

Hated by the locals who pride themselves on being better than Hester, who to them is the scum of the earth – we see the demise of a broken woman who longs for a just a 'leg up' to better her plight and the future of her children.

Mentally and physically abused by those very pillars of society poor, illiterate Hester is both naïve and desperate which results in her making the same mistakes and trusting those who only have their own interests at heart.

There's the doctor who tries to cajole her into getting rid of her 'women's parts' to the corrupt and moral-free pastor who blackmails her into keeping her mouth shut about the fact he's fathered one of her children. Then there's her care worker who invites Hester into her family home for a threesome to spice up her fledging sex life with her husband.

Hester remains the dirty little secret that everyone's had a piece of but wants nothing to do with but despite this she still has her hopes and dreams. Sadly, her plight goes from bad to devastatingly worse with an ending that will leave you aghast and full of emotion.

Natasha Bain's portrayal of Hester is nothing short of phenomenal. In fact, the entire cast of six, all except Bain playing dual roles are top class. They go from playing adult roles to child roles within minutes and all manage to pull it off with ease and credibility.

It's no wonder that Suzan Lori-Parks is one of America's most successful contemporary playwrights as In the Blood is a play that grips your heart and mind - an absolute must-see.

The European premiere of In The Blood is at the Finborough Theatre until September 4, 2010.