Alvin Ailey American Dance Theater, Sadler's Wells
Published:

Monday, September 20, 2010 18:23

| Review by:

Eugene Biggs

|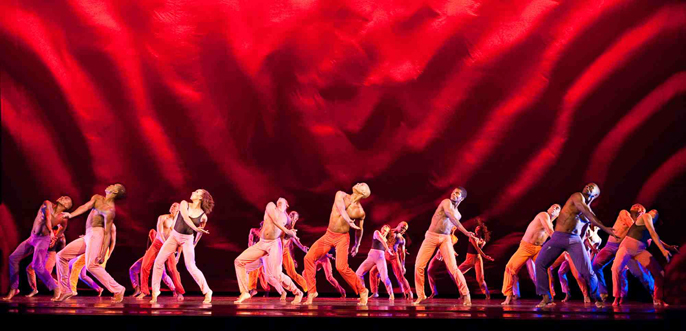 When you hear the words African-American and ballet it doesn't conjure up an instant association.

What voice do Africans have in such a refined European dance form? How do you translate the black cultural experience of life, through ballet to an audience?

Well, the Alvin Ailey American Dance Theater answers both the above questions and delivers even more.

Founded in New York in 1958 by Alvin Ailey, the American Dance Theater was inspired by what Ailey calls "blood memories" of his childhood in the Deep South, recreating the atmospheric release of praise from attending a strict Baptist church upbringing to the raucous entertainment of "juke joints" places where black folk went to dance, drink and gamble. This allowed African-Americans to temporarily forget the dark cloud of racial segregation and the economic hardships of the great depression which hung over them.

It was Ailey's desire that the passionate Judith Jamison would succeed him as artistic director, this came to fruition in 1989 when Ailey died of AIDS aged 58.

With un-moveable integrity Judith Jamison has created a true homage to Ailey's life's work and has brought the American Dance Theatre 2010 UK tour to Sadler's Wells, London. The Emmy award winning Jamison was honoured by Michelle Obama at the White house earlier this year for her contribution and dedication to dance.

The performance is divided into two parts, with the introduction giving a raw sugar cane approach with its use of lighting, movement and the voice of Ailey describing what he set out to achieve. Coupled with Jamison's candid voice-over as a backdrop and the very personal short stories of dancers in the company, the under-promised yet over-delivered narrative begins to unfold and take refinement and shape.

It's a challenge at first to concentrate on a dance piece with a voice over dialogue, strangely however this worked, although you have to appreciate that this is art in protest against the polarization of classical dance in the United States and an activist's movement, debating on whom can make a contribution when and where. Depicting scenes of segregation in the 1930's down to the integration of the times we live in now.

What makes this American Dance Theater unique is its subtle ability of storytelling, boasting an ensemble of 32 multi-racial dancers who have amazing dexterity and a unity which is achieved in all shapes, sizes and shades. Predominately focusing on ballet; the company draws on contemporary, jazz, African dance, Capoeira and Latin styles which enabled Ailey to give his choreography a truly universal appeal.

Your senses will be tantalized by the vibrant use of seasonal colours of the stage and costumes, extraordinary lighting, the mood is captured by rhythmic poetry, short stories and Deep South Negro spirituals. The score is full of bass lines, euphoric strings and piano keys with music ranging from Duke Ellington, Otis Redding, Moby, and Nina Simone to even Radiohead. Your hands will be clapping and your feet will be stomping, usually unheard of at the ballet.

There are moments of sheer grace and beauty coupled with strength, poise, energy and a real gasp of how awe inspiring the human anatomy is when it wants to communicate an unspoken message through athleticism. There is an intrinsic theme running through the performance, which is one of spirituality and humanism which takes you by the hand and leads you down a path of comedy, intrigue, emotion and down right genius.

If a sermon could be translated and communicated through dance – this is how it would be done.

The level of purity and honesty accomplished by the Alvin Ailey American dance Theater is effortless. The dancers are not trying to impress you, this is what they live and breathe, this is what they do.

Alvin Ailey is to African American dance theatre as August Wilson was to African American theatre - a pioneer.

The dancers educate and entertain at the same time, touching you a little deeper. You may learn something or you may not, however you will definitely feel something when you leave this experience.

This is a performance not to be missed.
---
Related Links
Alvin Ailey American Dance Theater – Sadler's Wells 14-25 September, 2010