ATN review: Wuthering Heights, Lyric, Hammersmith
Reviewed by Karla Williams
Published Tuesday, May 26, 2009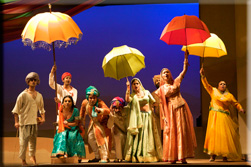 Based upon the book written by Deepak Verma (better known as Sanjay from EastEnders) which took its inspiration from the Emily Bronte novel, Wuthering Heights sees the original storyline between Cathy and Heathcliff given a dash of Garam masala. The traditional love story is transported from the Yorkshire Moors to Rajasthan India where Cathy is now Shakuntala (Patel) and Heathcliff becomes Krishan, (Chani) whom Shakuntala's father brought home after finding him wondering the street of Bombay.
The script includes both Hindi and English but this doesn't hinder your overall understanding but rather has a similar effect to that of Shakespeare - while you are left not fully comprehending each and every word you still get the gist of what's going on. The production contains all the colour and music you would expect from a Bollywood inspired performance and the songs being mined by the actors rather than being sung live gives it that quintessential Bollywood feel. The story is also narrated by two vagabond looking characters and while this narration is relevant to the progression of the story, at times it does feel a little redundant as they end up telling you things you've figured out for yourself.
Youkti Patel stands out as the strongest performer with her portrayal of the headstrong and determined Shakuntala and Rina Fatania provides much of the laughs as the stereotypical Asian mother character, Ayah.
Wuthering Heights is a fun and entertaining production that the whole family can enjoy and will make a real treat for fans of Tamasha or the Bollywood genre.
Wuthering Heights is based on the novel by Emily Bronte and is directed by Kristine Landon-Smith.
Cast Includes: Divian Ladwa, Youkti Patel, Rina Fatania and Pushpinder Chani