ATN Review: Wicked, The Apollo Theatre
Reviewed by Karla Williams
Published, Saturday, June 6, 2009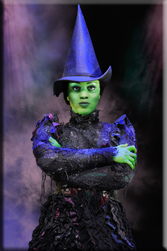 Wicked tells the unknown story of the Wizard of Oz and begins long before the tale we know and love.
Elphaba (later to become the Wicked Witch of the West) and Glenda (later to become the Good Witch of the North) are both students at Shiz Sorcery University. Glenda is popular and blonde with lots of friends but not much talent while Elphaba is unpopular and green with no friends but possesses true magical ablity.
Despite their differences, and initial loathing of one another, the pair become firm friends and make their way to the Emerald City for a special meeting with the Wizard of Oz. Elphaba however, soon realises that the great and powerful Oz actually has no powers at all and that she is the only one who can read the ancient spell book written in a disused language. But when she find out the Wizard wants to use her powers for his own gain, a story of deceit, love and friendship unfolds that will change everyone's lives forever.
Wicked has been a hit all over the world and its clear to see why. When you first walk into the theatre you are greeted by a remarkably detailed and elaborate set that include a 30ft fully-functional dragon that comes to life at different points in the show. The giant head that the Wizard hides behind is also beautifully ornate and terribly scary at the same time.
The story itself explores feelings of loss, misunderstanding, love and friendship and is surprisingly moving and emotional while still appealing to both adults and children alike. It is also nice to see such an enjoyable yet thought provoking twist put on a well known story. The songs also complement the narrative perfectly rather than becoming a distraction as is so often the case with musicals. Particular favourites are Loathing, Popular and Defying Gravity.
The cast all shine in this terrific production but the stars of the show is without doubt Alexia Khadime as Elphaba and Dianne Pilkington as Glenda. Alexia has been perfectly cast and is truly fantastic as Elphaba and her voice brings a soul and power required for the most powerful witch in Oz. Her voice works flawlessly with Dianne who hits notes only dogs can hear when she sings soprano.
Wicked successfully combines a heartfelt and relatable story that will appeal to audiences of all ages with a phenomenal and highly talented cast. It is likely to be the best musical on a West End stage at the moment.
Cast includes: Alexia Khadime, Dianne Pilkington, Harriet Thorpe, Oliver Tompsett and Sam Kelly