ATN Review: Lemn Sissay's Why I Don't Hate White People, Lyric Hammersmith




By Amica Anselm




Published,

Monday, 2 February, 2009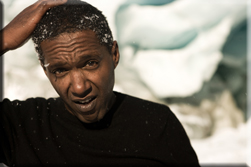 Written by and performed by Lemn Sissay, this thought provoking one man show is a presentation of an unlikely liaison between Wigan Social Services, Ethiopia and Eritrea.
This play encompasses race related issues within the journey of Sissay's discovery of being black in a town where there are no other black people. Using minimal props,  Sissay takes the audience away from him being centre of stage, by using himself as a prop to convey other people's understanding of the colour white.
Sissay creates an experience that is unexpected, he magnetises the audience into a trance by making them feel that they are watching more than a one man show on why he does not hate white people. By using white people to describe the meaning of the word white he creates examples of how the colour white is not always a matter of race.
To break up the scenes Sissay uses replications of words and actions which keeps the play in flow. He is animated and active keeping the show up-tempo.  Using the spotlight he acts as different characters by changing the tone of his voice and facial expressions. He transmits the outlook and perspective of others with humour and originality. Using ingenious similes to convey the way he was seen by others, he compares one particular memory to a Clint Eastwood scene.
This is a performance of a man who took a journey of discovery that taught him more than just about himself. It's thought provoking and has an entertaining element of surprise.
Why I Don't Hate White is on at the Lyric, Hammersmith until 14 February, 2009