ATN Review: Apples and Snakes presents Ty at Soho Theatre,
25 February, 2009
Reviewed by Sophia Jackson
Published  Wednesday, 4 March, 2009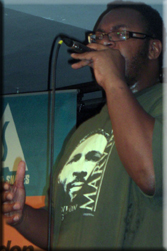 UK rapper and 2004 Mercury award nominee Ty introduced himself by admitting he was enjoying the nerves as they started to kick in at the monthly Apples and Snakes poetry night at Soho Theatre.
Not used to performing without a friendly backing track and the comfort of his own rhythms, wearing an olive green Marvin Gaye t-shirt, he performed as the audience relaxed under his melodic tones and let him get into his groove as his confidence peaked.
However, a fine UK hip hop artist of his calibre should fear not as even if he forgets his lines, the audience have nothing but love for him.
His diverse catalogue included Don't Watch That about when people say things about you, Hustle about people type-casting what it is you can and can't do to make money and I Want to Kill It. Ty also shared a poem about when it's our time to go, a moving tribute to his niece, Delali, who had died of  AIDS in Africa.
Ty followed a feisty, energetic and sometimes draw-dropping performance from spitter MC Angel, whose poems ranged from cellulite and lesbianism to the lonely itch. Some of the audience sheepishly agreed that they too could relate to a time when they've called an ex-lover to rid themselves of the 'lonely-itch'.
This is my second Apples and Snakes monthly poetry night housed in the intimate studio at Soho Theatre and I have to say that both have felt like one of London's best kept secrets. Being around such talent and creativity makes you want to pen some words of your own.
The night was hosted by Sarah Green who did a great job of creating a buzz as she introduced each act which also included Ben Mellor and Michael Frearson.