ATN Review: These Four Streets
Reviewed by Joan Jackson
Published Wednesday, 18 February, 2009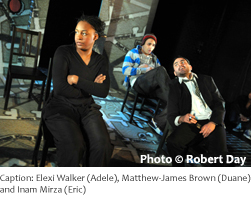 These Four Streets explores the power of rumour and at the centre of the play is the rumour of the serious sexual assault on a young Jamaican girl by a group of Asian men. The backdrop for the set (Michael Holt, designer) is a web page listing hairdressers in the West Midlands and a map of Birmingham serves as a reminder that the inspiration for the play was the disturbances that occurred within a multi-racial and largely deprived inner city area of Birmingham in 2005.
The play is an examination of what happens when the rumour takes hold, how it spreads and its inevitable embellishment as it's repeated. It highlights how when combined with other factors – existing tensions, individual grievances, etc., how these dynamics interact and ultimately manifest themselves and the consequences for individuals and the wider community.
The lives and experiences of the characters pre and post 'rumour' are revealed through their everyday routines of shopping, working, relaxing, etc. and we are able to discern that whilst on the surface the two racial groups co-exist, there are simmering tensions. With six actors admirably performing about 30 roles in various settings, the play is well-paced and the costume and scene changes does not disrupt its flow.
Whilst the themes raised by the play are serious and thought-provoking, it is interspersed with humour and therefore never becomes laborious. However, there are some clichéd stereotypical moments and some of the language used, albeit not gratuitously, is derogatory to certain groups and women. I must admit that hearing certain terms did make the hairs on the back of my neck stand up.
Overall, an enjoyable play which was well-suited to the studio theatre and appeared to be enjoyed by the cross-section of people in the audience.
These Four Streets is showing until at the Birmingham Repertory Theatre until 28 February