ATN Review: The Winter's Tale, Courtyard Theatre
Reviewed by Karla Williams
Published Tuesday, April 21, 2009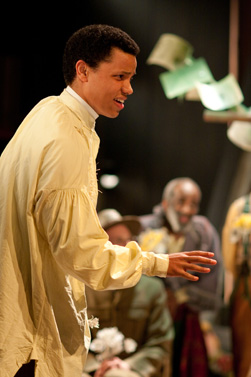 William Shakespeare's The Winter's Tale tells the story of Leontes, King of Sicilia (Gregory Hicks) who under the misguided assumption that his pregnant wife Hermione (Kelly Hunter) is having an affair, has her thrown into prison where she gives birth to a daughter, Perdita. Not wanting to have anything to do with his daughter, Leontes orders her to be abandoned however she is taken in and raised by a local Sheppard and his son. It is not until the death of his wife and eldest son Mamillius does Leontes realise his mistake, but being unable to change the wrong he's done, spends the rest of this life in atonement. When Perdita unexpectedly returns to Sicilia (some 16 years later) to marry the love of her life Florizel (Tunji Kasim), Leontes is reunited with his daughter and when a stature of his dead wife mysteriously begins to walk and talk, he is finally given the chance to rebuild his family.
Director David Farr has done a remarkable job in fashioning this production. Each of the actors gives strong and accomplished performances, in particular Greg Hicks who is perfect as Leontes. He is equally matched by Kelly Hunter who gives an impassioned and convincing portrayal of Hermione. The set on the production is just as outstanding, in particular the falling book shelves before the interval and the bear sequence both astounded and amaze.
The only weak link in this almost faultless chain is the script and while it's not common place to question the great Mr Shakespeare, you can't help wondering 'what was he thinking?' The unusual, and somewhat unbelievable, ending leaves you with more questions than answers while the steadfastness of Leontes belief that Hermione is cheating is based on no actual proof, but rather the fantasies of his own mind. You thus wonder where his logic comes from and question how believable the character really is.
That said the skilfully crafted production does a good job hiding the scripts main flaws and while the running time does comes in at just over 3 hours, The Winter's Tale is an enjoyable production of one of Shakespeare's lesser known works.
The Winter's Tale is at the Courtyard Theatre, Stratford-upon-Avon in repertoire from 31 March - 3 October 2009.
Cast includes: Tunji Kasim, Noma Dumezweni, Greg Hicks and Kelly Hunter.