ATN Review: Royal Shakespeare Company presents The Tempest by William Shakespeare, Courtyard Theatre, Stratford upon Avon
Reviewed by Karla Williams
Published Monday, 2 March, 2009

The Tempest is not as well known as some of William Shakespeare's other works for example Hamlet, Macbeth or Romeo and Juliet and was one of the last plays he wrote towards the end of his career.
It tells the story of Prospero, the Duke of Milan, who 12 years ago was falsely overthrown by his brother Antonio with the help of Alonso, King of Naples. But for his friend Gonzalo, Prospero and his only daughter Miranda would have been killed, but instead were banished to an island once ruled by the evil witch Sycorax.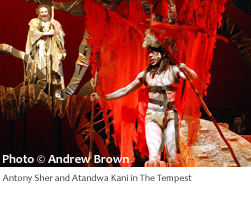 The island's only other inhabitants are the witch's son Caliban (who Prospero took into his care until he tried to rape his daughter) and Ariel, a powerful spirit who Prospero freed from enslavement. Since his release, Ariel has been working for Prospero and helped him create a storm that brought Antonio and his companions to the island and Prospero is ready to exact revenge.
The RSC worked closely with the Baxter Theatre Centre in Cape Town and the African influence on the play is obvious.  The production is filled with vibrant costumes and spectacularly colourful puppetries that simply leave you in awe. The Courtyard theatre has also been wonderfully transformed into the mysterious island and the set has been created to include four different levels, allowing the spirits to move up and about as if they were floating.
While the cast as a whole are strong, Atandwa Kani (son of John Kani) is particularly outstanding. He brings a human quality to Ariel that makes him one of the most relatable characters in the play and his simple desire for love and his dedication to Prospero is surprisingly moving.
This highlights The Tempest only real flaw as overall the rest of characters lack qualities or emotions you can really identify with and are far less relatable than some of Shakespeare's other creations.
The Tempest has been directed to make the story and language incredibly easy to understand and follow making a superb production full of wonder and spectacle surely not to be missed.