ATN Review: The Spotlight Café at the Octagon, Bolton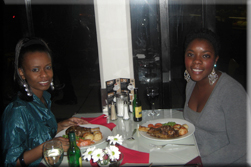 By Sophia Jackson,

Friday, 30 January 2009

a lip-smacking



On a chilly January evening, the chance to sample some warm cuisine at Octagon Theatre's Spotlight Café couldn't be resisted.
Fellow theatre critic, Jennifer Rock, and I were at logger heads over who would have the lamb shank but unable to decide between the mushroom stroganoff and traditional homemade spaghetti Bolognese, we both had the lamb shank dish to avoid food envy. Wow, I was glad I didn't back down.
The gently slow cooked braised lamb shank served with mint and rosemary sauce just fell off the bone. We both found the lamb to be mouthwateringly tender and in a bid to help with your five-a-day, green peas and chunky carrot pieces went nicely with the roast potatoes and gravy.
For dessert, Jennifer, had the rather indulgent raspberry and champagne torte which was a champagne mouse with raspberries and charlotte sponge, served with ice cream. She described her 'cold fusion' as 'amazing'. I went for the more traditional Belgian chocolate sponge pudding which was a satisfying way to round off a delicious meal.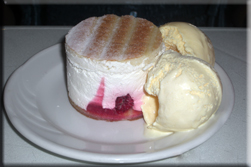 We drank Ochre Mountain Sauvignon Blanc and Cabernet Sauvignon which went down a treat.
At only £6.95 per person for a main course and £3.25 per person for dessert, it's an absolute bargain in these financially frugal times.
The Spotlight Café at the Octagon Theatre, Bolton is open Mondays – Saturdays: 10am – 3pm and from 6pm for evening performances. Pre-booking is essential, call: 01204 556500, 24 hours in advance. The menu changes with each production.