ATN review: The Observer, National Theatre
Reviewed by Femi Fola
Published 6 June, 2009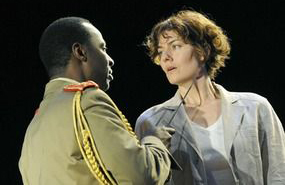 Should western intervention into African politics, even if supposedly benign, be welcomed? This is the question posed by Matt Charman's play, The Observer, set in a fictional African state during its first democratic elections. Anna Chancellor, as Fiona Russell-dedicated deputy from the election observation team-is faced with the dilemma of ensuring effective change in a job where impartiality is all-important.
Believing she is to preside over an easy, and possibly fixed, victory for the corrupt incumbent president, Russell and her enthused interpreter Daniel Okeke (Chuk Iwuji) are surprised when victory is not won outright in the election's first round. With the second round impending, Russell decides to enact a voter outreach scheme to get more people to the polls-mainly in areas where the opposition is popular.
Tense throughout, Charman's piece introduces us to a range of figures invested in the election result, from the world-weary Foreign office representative Saunders (James Fleet), cynical BBC correspondent Declan (Lloyd Hutchinson) to the indigenous electoral committee increasingly annoyed by the bumptious observer busily traversing their country in aid of 'enlightened' democracy.
But throughout the question remains whether western democracy is the best means of governance in Africa. Furthermore, in light of Russell's proactive politicking, whether the ends always justifies the means.
While Chancellor admirably lends her character a frenetic and tireless determination, and with it personal isolation, Chuk Iwuji brilliantly realises a young man initially excited as a child at Christmas but consequently troubled by the murkier details when election observation becomes competition. Impressing himself upon his scenes with great versatility is Cyril Nri, funnily so as a bar owner while discomfortingly so as an army chief.
Ultimately, the production is sustained by director Richard Eyre's skill in not only giving every scene the feeling of high importance, but also vividly elucidating the ins and outs of  a fledgling democracy's election in an exciting fashion.
The Observer is at the National Theatre until 3 September, 2009