ATN review: The Mountaintop, Theatre503
Reviewed by Sophia A Jackson
Published June 19, 2009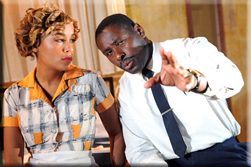 It's April 4, 1968. The day after Dr Martin Luther King Jr. made his I've Been to the Mountaintop speech - his final speech before he was assassinated. King is in his favoured Lorraine hotel in Memphis, Tennessee. This is where African-American playwright, Katori Hall's The Mountaintop is based.
The civil rights leader is played by David Harewood (Blood Diamond) and the whole play centres around King's last night in the hotel room, room 306, where he was slain.
Portrayed in ways not usually associated with the reverend this play is a refreshing insight to the other side of Dr King, perhaps even a dark side. Harewood puts his all into his performance, as King is seen as a man in fear of his life, slightly paranoid and a little arrogant. He even has a sly dig at Malcolm X. On this night there are thunderstorms and each flash of lightening causes King to jump, could it be a gun shot?
However, he keeps  his spirits up and has a good sense of humour. Look out for the pillow fight. King is clearly aware that the end is nigh and as such has plenty to say to the mysterious hotel maid, Camae, played by Lorraine Burroughs.
King isn't ready to die and highlights include a plea with God to spare his life and attempt at negotiating a deal. This is no typical representation of God but an old black woman with a cell phone and no messing around attitude.
In this two-hander, Burroughs is an equal match for an actor of Harewood's calibre and her character is one that helps to bring out King's more boisterous personality traits but also helps us to understand the burdens that King carried for his people  in his desire for peace and equality.
The dialogue between King and Camae, over a cigarette or three, is punctuated with references to King as a family man but also an unfaithful husband with sexist ways who likes to flirt.
It's a pleasure to watch such sterling actors in this intimate 75 seater theatre and to delve into the mind of one of the world's most significant influencers of the civil rights movement.  I, too, have a dream and that is that you catch this play while you can. It's powerful and significant. Don't miss it.