ATN Review: The Hounding of David Oluwale, Hackney Empire
Reviewed by Femi Fola
Published Sunday, March 29, 2009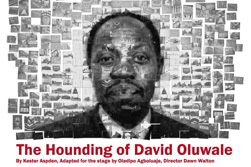 The hope is that it will never happen again. When the bruised, battered and lifeless body of David Oluwale was pulled out of the River Aire on May 4 1969, it was subsequently found that he had been victim to a savage mix of systematic police brutality and negligent social care. Oladipo Agboluaje's rendering of Kesper Aspden's book of the same name visualises with great skill and depth this true-life immigrant tale.
Agboluaje structures the action as reminiscence; David relaying his own story to the zealous Perkins, Scotland Yard's special investigator sent to look into the failings of the local force in Leeds. We learn David Oluwale arrived in Britain at the age of 19 in 1949, idealistic and hoping to study engineering with vague dreams of Cambridge; a playful young man nicknamed Yankee by his friends due to a love of westerns. After being dubiously arrested of assault and then accused of acting strangely in police custody (after taking a few truncheon blows to the head), he is admitted to Menston Hospital-a mental health institution. There he is treated with a mix of shock therapy and panoply of drugs-David leaves the institution a shell of the man he once was. Unable to hold on to a job, he lives homeless in Leeds city centre, shunned by social services and continually preyed upon by police up until his unexplained death.
Daniel Francis as Oluwale admirably shifts between past and present, descending into illness and decrepitude with painful precision; you almost want to turn away from the man as he cries for his faraway mother, his lost home, and his lost sense of self. Among the very strong performances was Richard Pepple's as Kayode, another Nigerian immigrant, an avuncular character personally striving but quietly despairing at his friends' unravelling. The police here are thankfully not cast as one-dimensional villains, we see how a mix of racism and internal class antagonism, epitomised brilliantly by Steve Jackson's malevolent Sergeant Kitching, helped created a culture of wanton brutality.
This powerful piece contextualises the central crime in the changing city that was Leeds at the time. From on high politicians proclaimed a cleaner, safer city; oblivious to the underlings down below peeping about to find benches and doorways to sleep in-and summarily punished for it. The storytelling technique manages to avoid the stilted feeling that can come from such a device, in fact it is the fluidity of Dawn Walton's well directed production and the scope of the writing that helps elevate this lonely tragedy beyond pure agitprop into a play encapsulating not only its time and place but also a life.
The Hounding of David Oluwale is on tour until 4 April, 2009