ATN review: Ìyà-Ilé, Soho Theatre
Reviewed by Ronke Lawal
Published Tuesday, May 26, 2009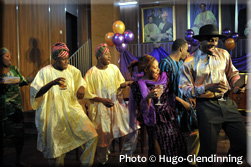 Set in the wealthy Adeyemi family mansion in Lagos, Nigeria with the milieu of political and social change sweeping the nation Ìyà-Ilé is a superb stage production which brings the culture of Nigeria to life. The prequel to The Estate, Ìyà-Ilé interweaves black magic, adultery, religion and revolutionary ideology, to create a truly authentic piece of theatrical artwork. As the family of Chief Adeyemi prepares for his wife, Toyin's fortieth birthday the mansion is set alight with dramatic perplexities from a revolutionist son to a tumultuous house maid with ambitions above her status.
How does one even begin to explain what a pleasure that watching this play is?
With its effortless choreography and traditional Yoruba musical accompaniments there are moments when one is completely engulfed in the rich cultural tapestry that the fantastic stage direction brings to life.
The cast are impeccable; their acting perfectly complementing Oludipo Agboluaje's play bestowing it with true vivacity. Femi Elufowoju's work as artistic director is highly commendable in this extremely enjoyable and luminous piece of work. 
If there's only one African play you see this year make sure that this is the one – there are not enough words in this review to do it true justice.