ATN Review: The Convict's Opera a co-production by Out of Joint and Sydney Theatre Company, Rose Theatre – on-tour
Reviewed by Havana Wellings-Longmore
Published Wednesday, March 25, 2009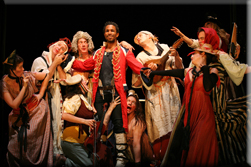 The Convict's Opera is a modern adaption by Stephen Jeffreys of John Gay's The Beggar's Opera, and is essentially a play within a play.  A disparate group of convicts on board a ship bound for Australia are forced to perform The Beggar's Opera in order to avoid boredom and potential munity. Through the main character Macheath, a tale of working class life, love and lovers in London is explored.
I was initially excited about seeing play, which has been on a National tour from January 2009, as the original story was set in the 18th century and brought to life a little known side of British history. I have always had a fascination for this period, particularly the play's focus of the criminal underworld of highwaymen, prostitutes and thieves.  However I left the theatre feeling slightly disappointed, despite the cast's wonderful vigour and efforts to bring the characters to life.
The musical score was excellent and the re-working of modern classics such as You're So Vain and Stand by Me were timely and funny. Overall the cast were good as many double or even treble up as actors/musicians and singers, both convicts and ship's officers, although the female cast members outshone their male counterparts. Catherine Russell gives a gusty and inspired performance as Mrs Peachum/ Bett Rock in the first half and Ali Mcgregor at times steals the show with her outstanding comic/tragic portrayal as Polly Peachum/ Grace Madden. Certainly we could have seen more of Catherine in the second half, where she appeared relegated to the bench.
But great performances could not make up for the play's slow, rather uneven pace and long running time. The second half failed to live up to the zesty opening numbers which was an opportunity missed. We left for the interval on a high that could not be sustained on re taking our seats.
What let the play down is Tess Schofield's somewhat bizarre and confusing costume designs that have some actors in 18th century, others in Pantoland and many male characters in modern day skinny jeans. For a historical play within a play to work one has to believe these are 18th century brigands and cut purses who are acting out their own story. When one character emerges in modern dungarees the audience is left wondering whether they are in fact watching actors playing convicts playing parts in a play! One needed to be quick to sort out the context of the roles. This confuses the time period the play is set in and gives the play somewhat of an amateur feel. The play wanders between a spoof and a panto with no audience participation in the first half but lots in the second, and eventually becomes down right silly when the character of Macheath comes out in a modern day speedo and matching swimming cap.
The story at times is hard to follow, it is not always clear to the audience when the performers change characters, as many lack costume or accent changes to highlight this.
The play is advertised as being suitable for 12+, but the old fashioned language and running time would really push this closer to 15.
But all in all a good night out with the quality and energy of the singing and playing making up for much of the lack of consistency