ATN Review: Inua Ellams' The 14th Tale, Arcola Theatre
Reviewed by Lindsay Johns
Published, Monday, March 30, 2009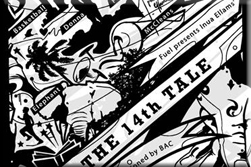 The Arcola Theatre in Dalston was home last week to a witty, skilful and irreverent coming of age identity monologue. The 14th Tale by the Nigerian born but Irish educated performance poet Inua Ellams is his first stage production, yet manages to capture with a masterful aplomb the innocence, brevity, hilarity and tragedy of youth.
A collection of chronologically structured musings on the trials and tribulations of adolescence and the vicissitudes of teenage years spent growing up as an African in Ireland, this autobiographical one hour and ten minute monologue contained much to be applauded.
Juxtaposing the draconian discipline of boarding school life in Nigeria with the permissive laissez-faire attitudes of modern day Ireland, the outsider's place within both environments was examined with a poet's eye. Be it the ardent longing for stability amidst deracination, the arduous and (perennially elusive?) quest for identity, the testosterone-fuelled teenager's preoccupation with girls or the intrusive intimations of mortality brought home by his father's sudden stroke (a device which neatly and poignantly framed the performance), Ellam's ideas were articulated in language which was sometimes sensuous, sometimes sonorous, sometimes banal, but always captivating, and was conveyed with an alluring mixture of passion and gravitas.
With some deft comic touches which thankfully exceeded the palpable hilarity of Nigerian accents and an understated yet nevertheless commanding stage presence, Ellams' performance was strong, brave and mature. Touching, humorous, heart-rending, at times profound, at times philosophical, at times irreverent, but always engaging, this was quintessential fringe theatre as it should be. Moreover, seated in a small outhouse annex which seated only 50 people, Ellams' visceral and emotional delivery was all the more powerful.
I am sure that those who saw this performance were, like myself, surprised, humbled and inspired. Chapeau Inua!